Click here to see the TOP 3 Best Turbo Trainers Under £200.
When you can't get out on the open roads on your bike then the next best thing is an indoor turbo trainer. Basically a cycle turbo trainer connects to your bikes back wheel (or you remove your wheel and connect your folks directly) and allows you to spin a resistance unit as you pedal.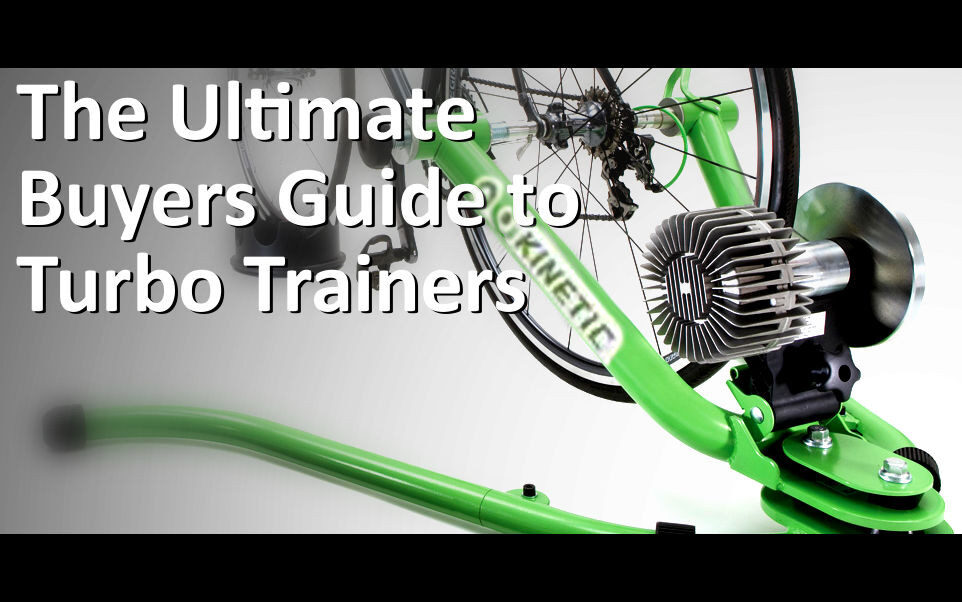 There are many different kinds of turbo trainers, and you should read our new Ultimate Buyers Guide to Turbo Trainers here to learn everything you could possibly want to know about turbo trainers and the different types and pros & cons. Also, this overview of the CycleOps cycle turbo trainer range may be useful because it covers all different resistance mechanisms, including Wind, Fluid, Magnetic, and Electromagnetic.
If you are looking for a solid and reliable turbo trainer from a trusted brand but don't want to pay close to a £1000 (yes some are this expensive ' read out virtual reality turbo trainer article) then you are looking at an entry-level cycle trainer. This does not mean a low quality trainer, far from it, it just means you will not get all the bells and whistles that some of the high-end trainers offer.
For less than £200 (and probably closer to £100) you can get a good quality trainer from a brand such as Tacx, CycleOps, Kurt Kinetic, Minoura, and Elite, all well respected brands who have a long history in cycling. You will be looking at either a wind or a magnetic resistance turbo trainer for this price level, although some fluid trainers could sneak in to this price level, but electromagnetic trainers are going to be more expensive.

Wind trainers provide a progressive resistance that is somewhat comparable to the resistance you feel when riding outdoors. Simply it means as you pedal faster the resistance does not increase linearly (i.e. in a straight line), but instead the resistance increases more steeply the faster you pedal. One issue with wind (AKA air) trainers is that they are loud, so if noise is something you are worried about then you need to consider this.

Magnetic trainers are generally quieter than wind trainers but their resistance is linear (rather than progressive like wind cycle trainers). This being said they are not silent and do make some noise. One advantage of magnetic (AKA Mag) trainers are than you can set different resistance levels, so you can have an easier workout or a stiffer workout. Generally entry-level mag trainers have around 5 to 7 resistance levels to choose from. On the lower cost trainers you have to set the resistance before you start pedalling, but for a little more money you get a handlebar mounted resistance level.

Fluid trainers are similar to wind trainers but are seen as a much better option of people wanting to get a road-like ride. Fluid trainers work by spinning a blade in fluid (oil based solution), but the viscoelestic properties of the fluid are specially engineered to give a resistance curve very similar to that of riding outdoors. Another huge benefit of fluid trainers is that they are much quieter than wind trainers, and are seen as the quietest trainers on the market.
Top 3 Cheap Turbo Trainers
RRP: £199.99 ' Best Price: ~£140.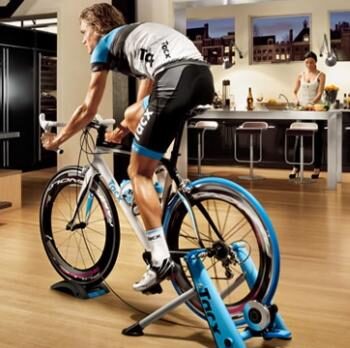 The Tacx Blue Motion is the top trainer out of 3 entry-level trainers that Tacx offer. If is very popular trainer that uses a powerful Neodynamic magnet combined with a 1.6KG flywheel to offer solid resistance and a realistic feel. The maximum resistance is 950 Watts. The are an impressive 19 levels of resistance to choose from, all controlled via a handlebar mounted resistance unit. An added benefit of the Blue Motion turbo trainer is that it can fit both small and big wheels, with even 29 MTB wheels fitting. It is also full foldable for easy storage and transport.
Check out more about the Tacx Blue Motion Turbo Trainer here.
RRP: £249.99 ' Best Price: ~£180.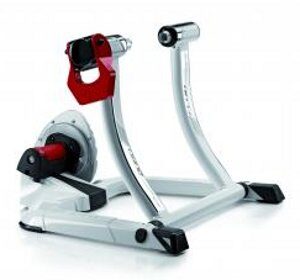 Fluid trainers are normally outside the price range of this Cheap Turbo Trainer Review, and with an RRP of £249.99 the Qubo Power Fluid should be. However, competition is hot for this great fluid trainer and this has driven prices down with several retailers offering it for under £200.
The Elite Qubo Power Fluid is 100% more powerful than the standard fluid trainers, it is very quiet, and it uses Elite's unique Elastogel resistance roller that reduces your tyre wear by 20% compared to a traditional turbo resistance roller. This trainer also fits 20' to 29' wheels.
Users say:
'Quick & easy to set up. I've used it probably a dozen times so far with no apparent wear to the tire.' 'It's really well built, solid and doesn't move around.'
'For the price I feel it's a good product. With a proper trainer-tyre it's acually so quiet that you can Watch tv without scaring you neighbours.'
' User reviews from Chain Reaction Cycles.
Check out more about the Elite Qubo Power Fluid Turbo Trainer here.
RRP: £159.99 ' Best Price: ~£100.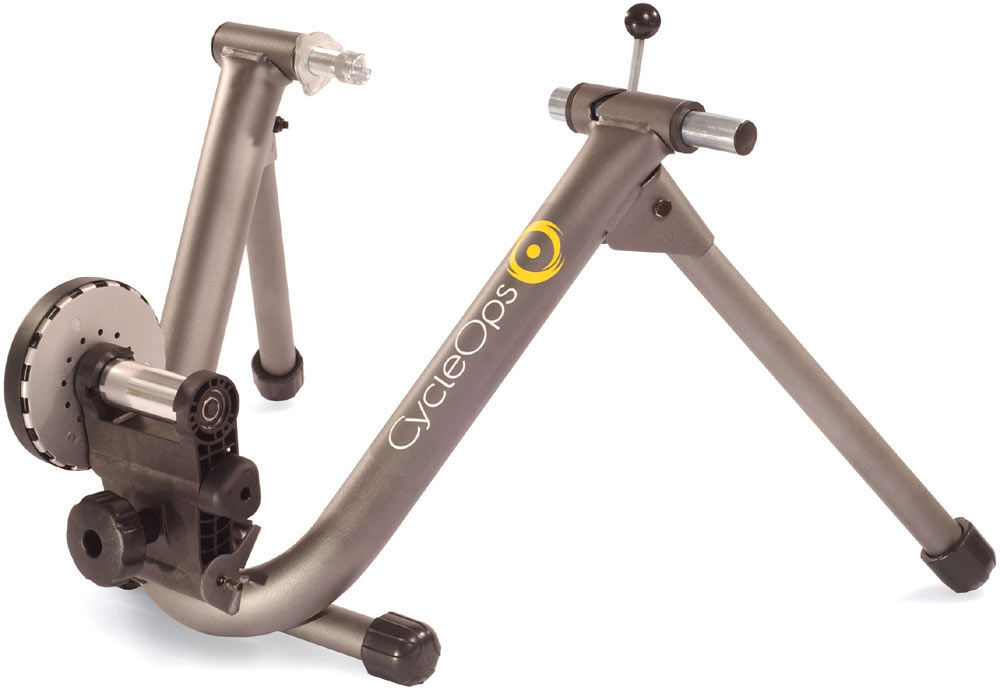 Simply, the CycleOps Classic Mag is one of the most popular trainers out there. This is due to a combination of its great price and its solid and reliable performance (from a massive cycling brand ' CycleOps). You can select one of 5 resistance levels on the trainer itself (it does not have a handlebar resistance level, although the upgraded Mag+ does), to give you variable workout options.
Check out more about the CycleOps Classic Mag Turbo Trainer here.
EXTRA SNEAKY TRAINER
RRP: £249.99 ' Best Price: ~£199.99.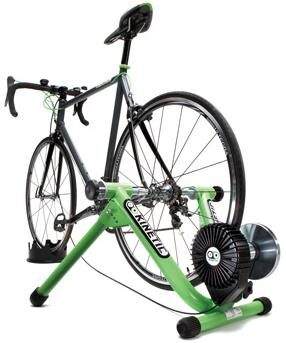 The Kinetic Magnetic trainer has sneaked in here because at the time of writing we managed to find a retailer where you could buy it for under £200. Really this is a mid-level trainer and should not make this list, but if you can get it for under £200 then we thought you should know about it.
Rather than tell you about the Kinetic trainer you can see it in action in the video below.
Check out more about the New Kinetic Magnetic Turbo Trainer here.
See all turbo trainer and filter by price range, resistance type, and brand.