The modern cyclist knows that training doesn't stop when the weather turns or when daylight fades. Instead, with the right gear, you can continue your training indoors. One such piece of equipment is the bike trainer, a compact device that turns your bike into a stationary workout machine. In this guide, we delve into the 10 best bike trainers in 2023 to help you stay in the saddle all year round.
But, how does one choose a bike trainer? Bike trainers come in different shapes and sizes, performance capabilities and, of course, price points. Key considerations include the type of resistance it provides, how quiet it is, and how realistic the ride feels. Some trainers can even connect to your smartphone or computer for interactive workouts.
Choosing the right bike trainer can literally take your training to the next level, allowing you to maintain and improve your performance, regardless of the weather, the time of day, or your geographic location.
In a moment, we will take you through a list of the 10 best bike trainers in 2023. But first, why invest in a bike trainer? A bike picks for the best bike trainers in 2023.
Why Invest in a Bike Trainer?
If you're a cycling enthusiast, investing in a bike trainer can be a game-changer. Whether you're new to the sport or are an experienced rider, having a bike trainer at home provides numerous advantages. Let's delve into why it's a worthwhile investment.
Flexible Training
The weather doesn't always cooperate with your training schedule. Rain, snow, or too much sun can impact outdoor training. That's where a bike trainer comes in handy. It allows you to train at your own convenience, regardless of the weather or time of day. Plus, you avoid traffic or unsafe riding conditions. This flexibility can keep your training consistent and on track. After all, indoor cycling can burn up to 600 calories per hour.
Focused and Efficient Workout
Outdoor cycling has its charms, but it can also be filled with interruptions – traffic lights, stop signs or road work can disrupt your rhythm.  With a bike trainer, it's just you and your bike. You can focus on specific training targets like improving fitness levels or leg strength without any distractions.
Tracking Progress
Many modern bike trainers come with software that tracks and analyzes your performance. Metrics like speed, distance, cadence, and power output are measured. This data can offer insightful feedback on your progress, helping you fine-tune your workouts, and reach your fitness goals faster.
Saving on Costs
Compared to gym memberships, which require monthly or annual fees, a bike trainer presents a more cost-effective option. It's a one-time investment that you'll use for years, not to mention financial savings in fuel if you usually drive to your cycling routes.
With these benefits in mind, it's easy to see why bike trainers have become a vital piece of equipment for cyclists at all levels. You get to train in a comfortable, controlled environment, with adaptive resistance for all training levels. Now let's move onto the top 10 bike trainers of 2023 that you might want to consider.
Top 10 Bike Trainers of 2023
So, are you ready to take your cycling training indoors? To help you, we've compiled a list of the top 10 best bike trainers of 2023 which offer top-of-the-line features, durability, and incredible ease of use. Let's dive straight into it.
1. Wahoo KICKR Core Smart Trainer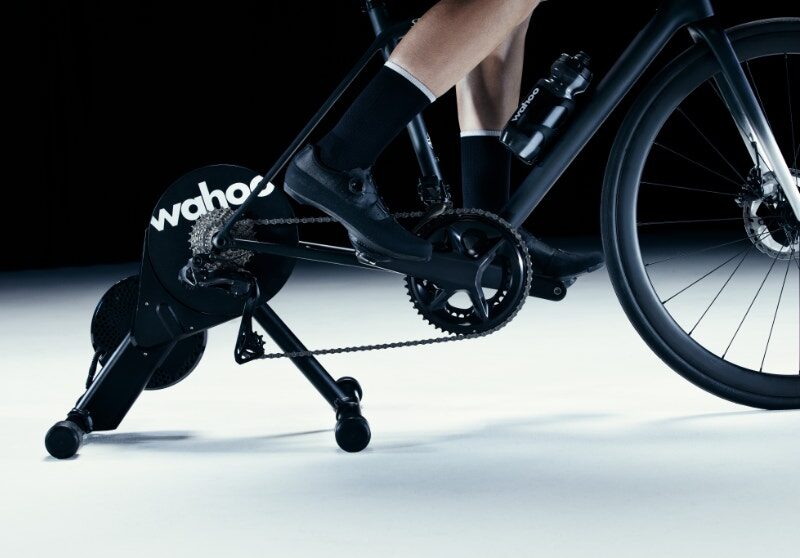 As an avid indoor cyclist, discovering the Wahoo KICKR Core Smart Trainer has been nothing short of transformative for me. Let me dive into a bit more detail on why this device has made all the difference, highlighting both its incredible features and the few areas where it could improve further.
What I Love
Gear Feel: First off, the ride feel on the KICKR Core is far superior to other trainers I've tried. It simulates outdoor cycling so effortlessly with its responsive and realistic resistance changes, ranging from flat roads to steep climbs.
Versatility: Another highlight is the device's versatility. Regardless of whether you're on mountain bike or a road bike, the Wahoo KICKR Core accommodates an array of bicycle types seamlessly.
App Compatibility: On the tech front, the compatibility with a large variety of training apps like Zwift and TrainerRoad ensures varied and comprehensive workout routines. This feature has kept my indoor training from becoming monotonous.
Quiet Operation: The KICKR Core boasts an ultra-quiet operation. It's remarkable how such a powerful machine maintains such a low decibel level – it certainly makes those early morning workouts a lot easier.
Where It Falls Short
While the Wahoo KICKR Core has overwhelmingly impressed me, it's not without its flaws.
Setup: Setting up the trainer required a bit more time and effort than expected. A more intuitive assembly process would be beneficial.
Price: Its high price point can definitely be a hurdle for budget-conscious cyclists. While I firmly believe in the long-term returns of this investment, the initial cost can be daunting.
In sum, the Wahoo KICKR Core Smart Trainer has transformed my indoor cycling experience with its exceptional gear feel, usability, app compatibility, and quiet operation. The few drawbacks it does have are vastly outweighed by its overall performance and quality.
For those willing to make a one-time investment for a much-enhanced indoor cycling experience, I highly recommend the Wahoo KICKR Core Smart Trainer.
2. Tacx NEO 2T Smart Trainer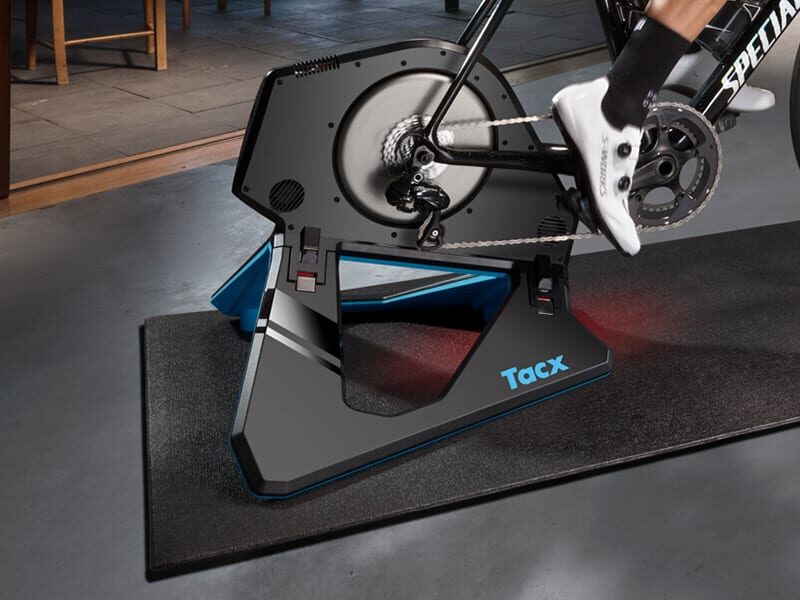 When I think of bike trainers that offer a truly immersive and dynamic indoor cycling experience, the Tacx NEO 2T Smart Trainer always comes to mind. It's revolutionized the way that many cyclists, myself included, train indoors.
For me, one of the biggest draws of the Tacx NEO 2T is its incredibly realistic road feel. The trainer simulates different terrains, weather conditions, and even mimics the sensation of riding on cobblestones.
What's more, this trainer delivers impressive power accuracy, with a deviation of less than 1%. This has allowed me to track my performance with extreme precision, which has been invaluable for my training regimen. It's certainly one of its strengths, but let's take a look at some specific pros and cons of the Tacx NEO 2T:
| Pros | Cons |
| --- | --- |
| Exceptionally realistic road feel | Slightly higher price point than some models |
| Superior power accuracy (<1% deviation) | Slight learning curve for setup and operation |
| Native direct drive design (no calibration needed) | Some software glitches with certain devices |
| Impressive range of simulated terrain | N/A |
The design of the Tacx NEO 2T Smart Trainer is also noteworthy. Its native direct drive design does away with the need for calibration before each use. This trainer is ready to go the moment you are, which saves you precious time before your workout.
The mild learning curve for setup and operation seems like a small compromise to me considering the overall premium experience this bike trainer provides. Also, the slight software glitches I noted were with older devices, newer devices seemed to fair much better.
In conclusion, the Tacx NEO 2T Smart Trainer may come at a slightly higher price point, but I believe that the advanced features and exceptional training experience it provides easily justify the cost.
3. Elite Suito Interactive Trainer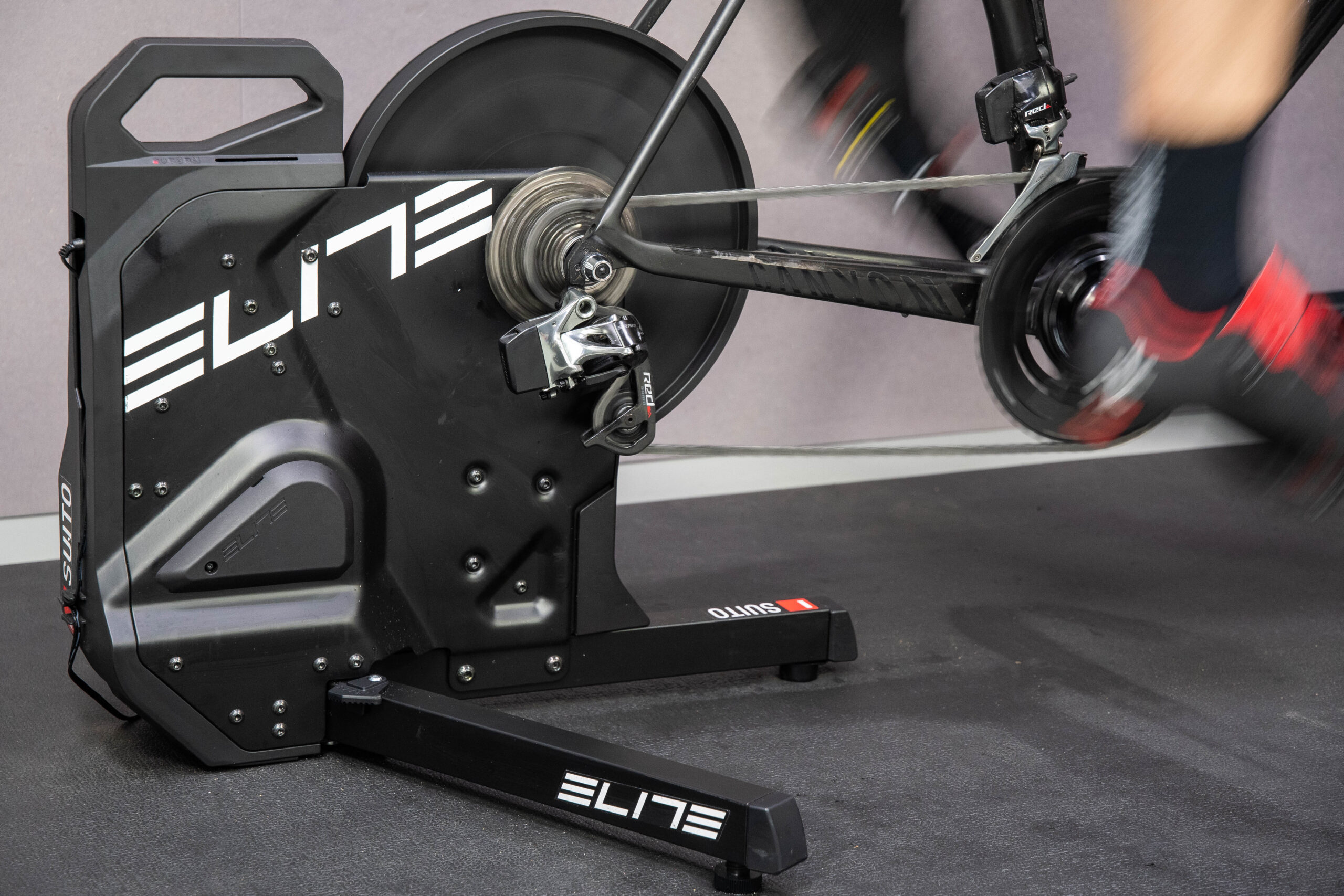 When it comes to settling in for an intense indoor cycling session, there's a lot to love about the Elite Suito Interactive Trainer. Here's what I found out based on my extended use:
Using the Elite Suito Interactive Trainer is like having your own personal cycling coach at home.
What I like:
Sturdy Construction: This thing is built to last. The strong, stable frame supports hard workouts without any wobble. The components feel high-quality, exhibit no signs of wear and tear even after months of heavy use.
Interactive Experience: The real-time performance measurements and realistic road feel, give me the best indoor cycling experience. The trainer syncs effortlessly with popular training apps such as Zwift, providing a fully immersive experience.
Easy to Set-Up: Setting up the Elite Suito is a breeze. It comes pre-assembled in the box and connects effortlessly to my bike. In no time, I was ready to ride.
What I don't like:
Noise Level: The Suito is quieter than many basic trainers, but it's not the quietest on the market — important to keep in mind if you're training in a shared space or while others are trying to work or sleep.
Calibration: Though the calibration process is simple, it seems a bit cumbersome when compared to other high-end trainers. A more streamlined process would be a significant improvement.
That being said, the Elite Suito Interactive Trainer has proven to be a reliable home training companion that offers a solid mix of features for those seeking an immersive cycling experience.
4. Saris H3 Direct Drive Smart Trainer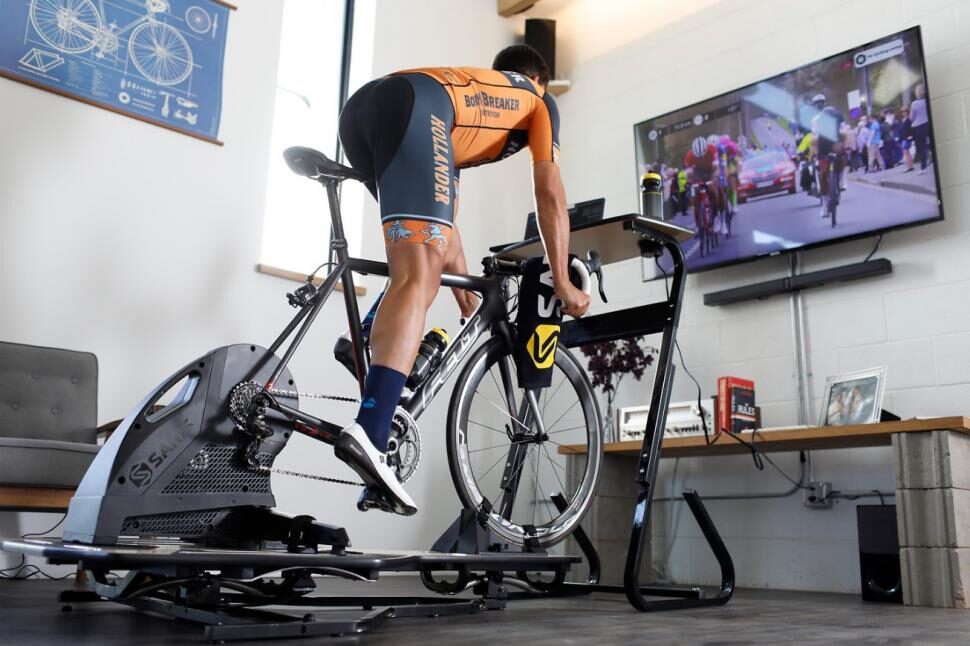 When I first tried out the Saris H3 Direct Drive Smart Trainer, I was immediately impressed by how quiet it was. For a device that offers such intense resistance and varied terrain simulations, it was much quieter than I anticipated.
One feature I greatly appreciated was the direct drive design. This design means you remove the rear wheel of your bike to connect directly with the trainer. It allows for a more accurate and precise workout. I was able to enjoy a smooth ride, totally free from the sound of a spinning rear wheel.
It feels like the bike just disappears beneath you and all that's left is the ride.
On the flip side, certain aspects of the trainer could be improved. The initial setup was a bit difficult and took some time. However, once you get past the installation, using the trainer is quite intuitive. Furthermore, the cost of the trainer is on the higher end, which could deter some potential buyers.
| Pros | Cons |
| --- | --- |
| Quiet Operation | Difficult Setup |
| Accurate and Precise Workout | High Cost |
| Smooth Ride | None |
In summary, if you don't mind spending a little extra for a more realistic and engaging indoor cycling experience, and if you can get through the initial setup, the Saris H3 Direct Drive Smart Trainer is worth considering. Just understand that the quieter operation, smoother ride, and enhanced workout accuracy may come with a slightly steeper learning curve compared to other indoor trainers. However, in my experience, the benefits far outweighed any initial complexity.
5. Kinetic Rock and Roll 2.0 Trainer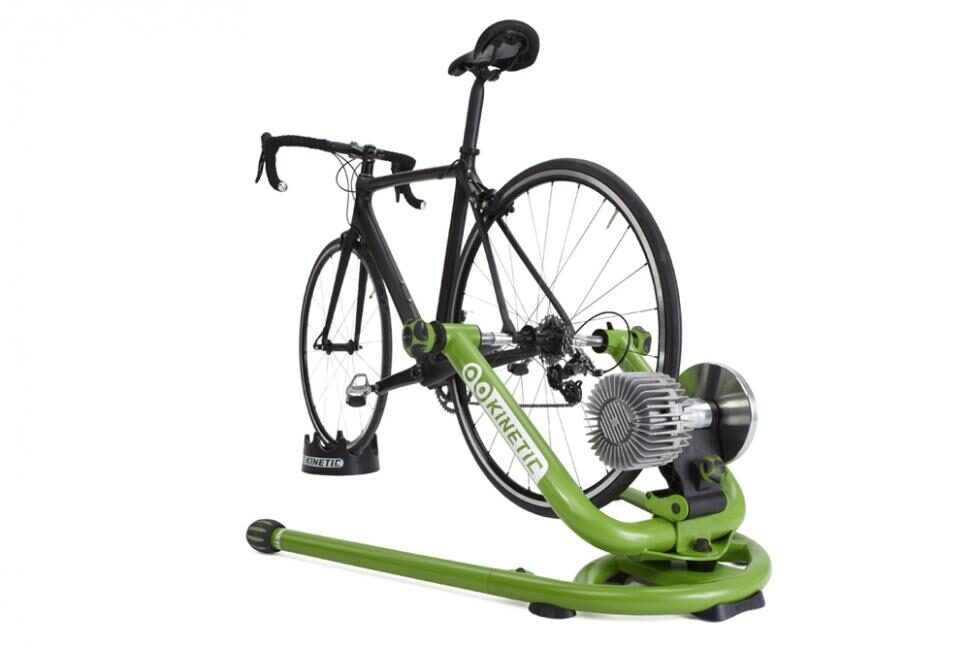 As an enthusiastic cyclist, I've been around the block a few times when it comes to indoor bike trainers. But, trust me when I say this, the Kinetic Rock and Roll 2.0 Trainer is definitely worth talking about!
Let's start with what I liked about it. The first thing you'll notice is how it realistically mimics the feel of outdoor riding. That's not a surprise given that it's the world's only free-moving fluid trainer. The feel when you're pedaling on this trainer is almost indistinguishable from a real outdoor bike ride. It's like getting all the pros of outdoor cycling in the convenience of your home.
If you're one for realism, you'll be hard pressed to find a trainer with a better, more natural feeling ride.
Its build quality is another major plus. The frame is built solid, so there's no annoying rattling or wobbling when you're in the middle of your workout. It is engineered to accommodate all types of bikes, even the larger ones, thanks to its adjustable legs. Furthermore, the advanced heat dissipation mechanism prolongs the life of the resistance unit.
The integration of the Kinetic inRide Sensor also enhances the experience. It allows you to measure and show real-time workout data like speed, cadence, power, and heart rate – all straight on your smartphone! You even have an option to connect to apps like Zwift for a more engaging cycling session.
Connectivity features are something I always look for in a trainer – and the rock and roll trainer doesn't disappoint!
Now onto what I didn't particularly like. While the assembly was pretty straightforward, the unit does take up a considerable amount of space even when folded. Also, as it gives you a rocking motion, it might take some getting used to, especially if you've only used fixed trainers before.
While not a deal breaker, the absence of a flywheel can make the initial momentum a bit tricky to create, particularly for beginners. Lastly, I found the price a bit on the higher side compared to other fluid trainers available in the market.
| | |
| --- | --- |
| Pros | Cons |
| Realistic ride feel | Can occupy considerable space |
| High-quality build | Rocking motion may take getting used to |
| inRide Sensor for workout data | No flywheel |
| Connects to fitness apps | Pricey |
All in all, if you have the space and the budget, the Kinetic Rock and Roll 2.0 Trainer gives you a superbly realistic and interactive indoor cycling experience that's hard to beat.
6. CycleOps Fluid2 Indoor Trainer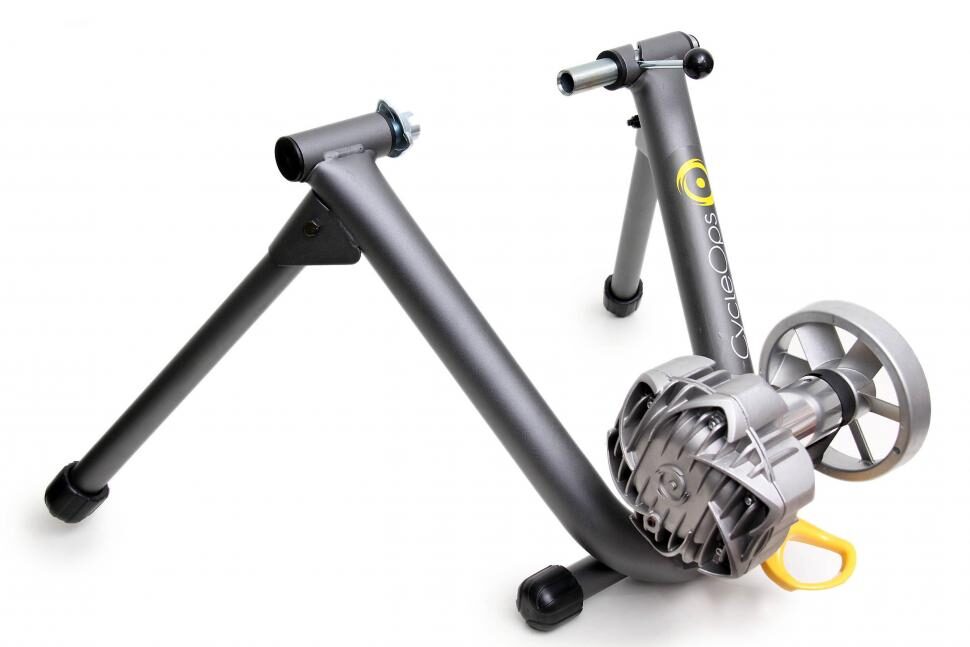 When it comes to indoor cycling trainers, the CycleOps Fluid2 stands among the best. This trainer is an excellent pick, especially if you live in harsh weather conditions not suitable for outdoor cycling or if you simply prefer indoors training. Here's my take on it:
I purchased the CycleOps Fluid2 trainer about six months ago and it has been utterly transformative in my daily training. The ease of set up and the outstanding performance it delivers gives a commendable experience.
What I Like:
The Performance: The progressive resistance offered by the Fluid2 trainer creates a real-like cycling experience. It delivers quiet, smooth, and realistic road-like feel.
User-Friendly Design: I appreciate its easy setup and its compatibility with almost all bike types.
Sturdy Construction: The solid construction of this trainer definitely deserves a mention. It's sturdy enough to handle intense workouts.
Gripping: The rubberized feet provide a good grip, keeping the trainer stationary even during intense exercises.
What I Dislike:
No Power Measurement: As a pro cyclist, this is a minor drawback for me. Though you can get a close power approximation from the trainer's speed curve, a direct power meter would have been more beneficial.
No Preset Workouts: Again, it's not a deal breaker but having preset workouts could have added to its appeal.
In a nutshell, the CycleOps Fluid2 trainer is a great indoor bike trainer that gives a real-road feel. Despite a couple of minor cons, it is a high quality, high performance bike trainer and definitely deserves a spot in the top ten list.
7. Bkool Smart Pro 2 Trainer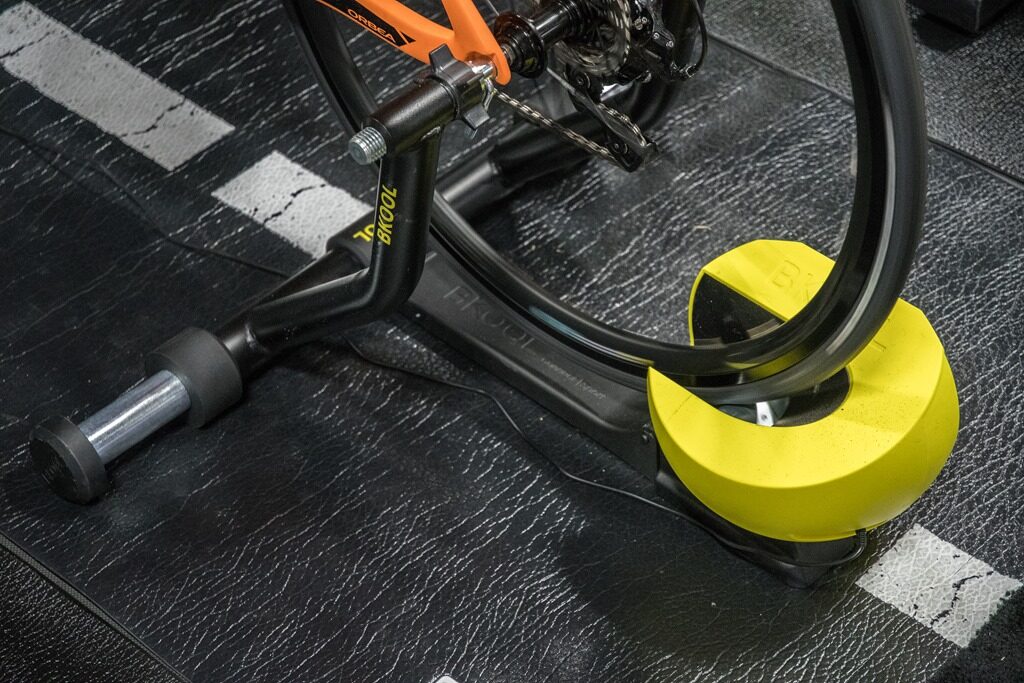 If you're a cyclist who prefers to train at home or indoors, the Bkool Smart Pro 2 Trainer is a superb option. This high-tech and robust trainer is loaded with features that make indoor biking an enjoyable and productive experience.
The Bkool Smart Pro 2 Trainer provides a simulates outdoor cycling conditions impressively, making it feel like you're riding outside.
Here's what I love about it:
Exceptional Simulations: This trainer offers impressive simulations, handling inclines up to 20%. Whether it's a steep climb or a flat road, it handles it with precision.
Smart Resistance: The resistance automatically adjusts based on the terrain of your chosen virtual route.
Quiet Operation: Unlike many indoor bike trainers, the Bkool Smart Pro 2 is relatively quiet, ensuring your workouts don't disturb others.
Interactive Training Software: With the BKOOL training software, you get access to thousands of virtual routes and structured workouts that sync perfectly with the trainer.
Even with its fantastic features, there are a few things I think could be improved:
Steadiness: The unit can feel a bit unstable during intense sessions, so if you're planning to do high-powered workouts, additional stabilization is required.
Setup Process: For less tech-savvy people, the initial setup might be a bit complicated, although once you get it running, it's worth the effort.
Despite a couple of minor issues, the Bkool Smart Pro 2 Trainer provides a versatile and immersive training experience that closely replicates real-world biking conditions.
Here are the Bkool Smart Pro 2 Trainer's specifications in a snapshot:
| Specifications: | Details: |
| --- | --- |
| Max incline simulation | 20% |
| Noise level | 68 dB (at 30 km/h) |
| Power output | 1,200 watts |
| Connectivity | ANT+ and Bluetooth Smart |
8. Elite Direto XR Interactive Trainer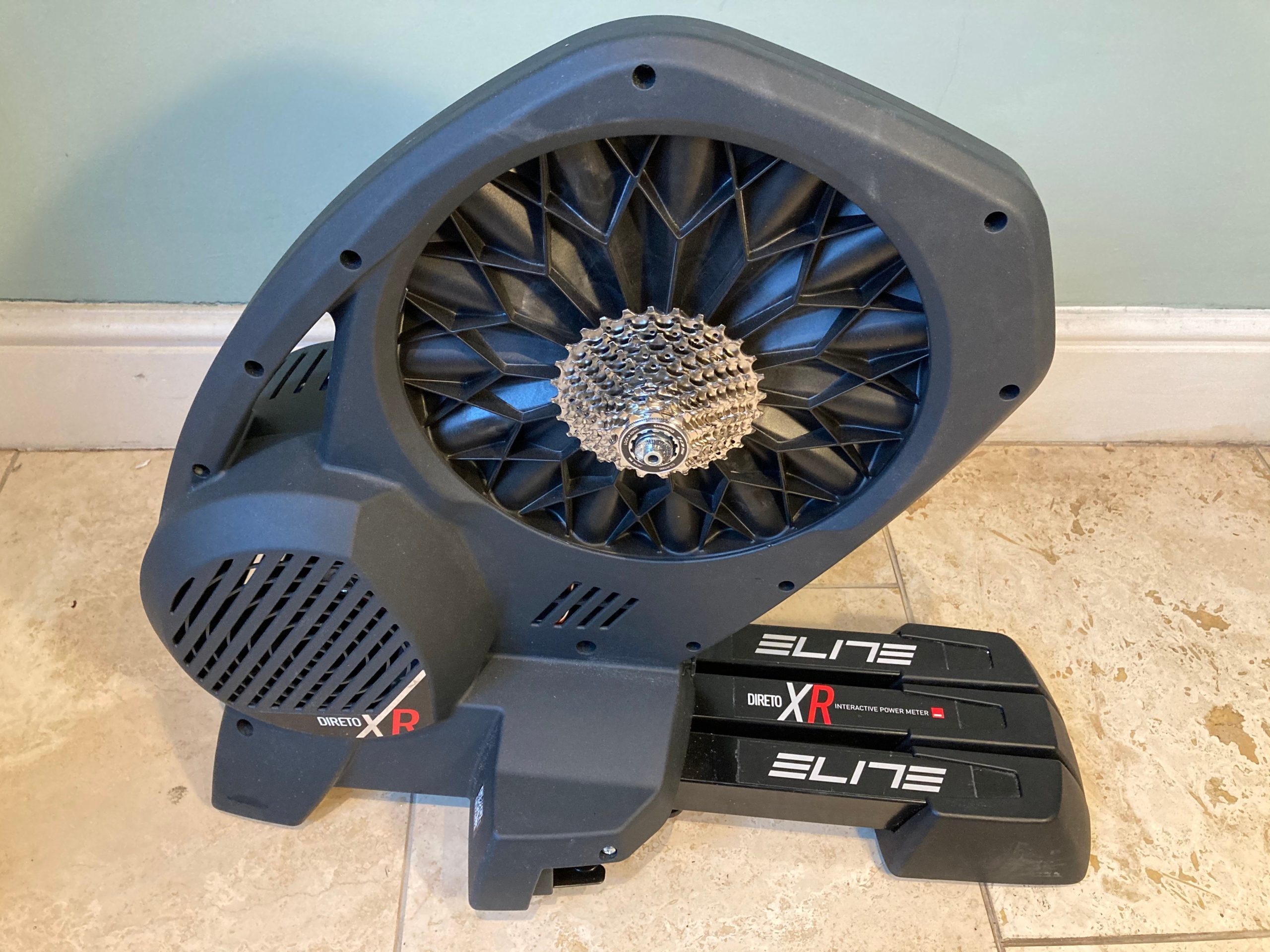 As a cycling enthusiast myself, I've come across multiple trainers to perfect my indoor training session. One significant standout among all has been the Elite Direto XR Interactive Trainer.
Personally, I love the fact it precisely measures power output, which is extremely crucial to gauge your progress. The integrated power meter has a +/- 1.5% accuracy level – it's hard to ignore such precision in measuring power for any serious cyclist.
"The Elite Direto XR Interactive Trainer boasts a 1.5% accuracy level, ensuring a high degree of precision in measuring power."
Then there's the interactive smart trainer functionality that I've found engaging. With software like Zwift and TrainerRoad compatibility, the Elite Direto XR enhances the monotonous indoor training experience by delivering real-world simulation, making it more engaging and fun.
The auto-adjusting resistance based on terrain changes within the training app is another feature that stood out. It's incredibly immersive, giving me the feeling of training on the road, but in the comfort of my own home.
Easy to assemble and compact design
Precise power measurement
Auto-adjusting resistance
Interactive software compatibility
Exceptional build quality
But of course, like any other product, there are some aspects where the Direto XR could improve, and it's only fair that I mention those as well.
The noise level of the Direto XR is significant. While it's manageable for me, you might want to consider this point if a silent operation is a significant factor for you.
The accuracy drops slightly when you're working out at low power zones. So, if a vast chunk of your workout consists of low power training, this might discourage you a bit.
All in all, I firmly believe the Elite Direto XR offers an exceptional performance, ensuring an engaging and effective indoor training experience at its price point.
"Whether it's the power measurement precision, software compatibility or immersive experience, the direto XR certainly scores high on all my key criteria for an indoor bike trainer."
9. Tacx Flux S Direct Drive Smart Trainer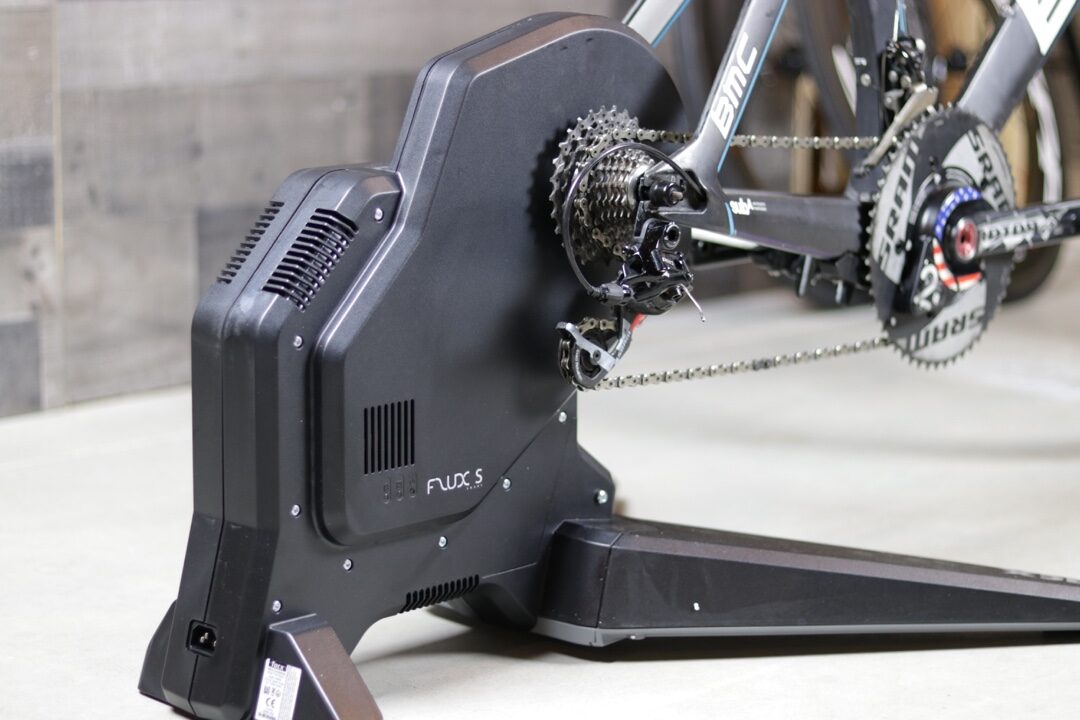 Having personally used the Tacx Flux S Direct Drive Smart Trainer for months, it's safe to say that it has become a mainstay in my indoor training routine. There's a lot to love about this bike trainer, so let's dive into the specifics.
Connectivity: Having trained with the Flux S Direct Drive Smart Trainer, I genuinely appreciated its seamless connectivity to various platforms. Whether it's Zwift, TrainerRoad, or any other cycling apps, the Tacx Flux S syncs up almost instantly. Connecting to ANT+ FE-C and Bluetooth Smart technology also provides the possibility for interactive workouts, which I found absolutely amazing.
Power Accuracy: Accuracy is critical when it comes to indoor training. What I found with the Tacx Flux S is that it delivers a power reading that's accurate to about +/-3%, which for a mid-range trainer, is very reliable.
Noise-level:
The Tacx Flux S offers a great balance between functionality, connectivity, design, and value for money. Its quiet operation ensures a pleasant ride, while the handy smart features make indoor training a breeze.
However, just like any other product, the Tacx Flux S Direct Drive Smart Trainer isn't free from minor downsides.
Weight: The one thing that's a bit of a challenge with the Tacx Flux is its weight. Weighing in at 45lbs (20.4kg), moving it around can be a little difficult. This may not be an issue for some but can be inconvenient if you plan on frequently moving it.
Noisy Calibration: Although the running noise is minimal, during the calibration process, it gets a bit loud. Keep in mind it's a short process and something you won't be doing frequently.
Despite these minor issues, the Tacx Flux S Direct Drive Smart Trainer proves to be one of the best bike trainers available, providing an immersive and realistic ride experience. It's a fantastic solution for cyclists looking to train indoors.
10. JetBlack V2 Fluid Trainer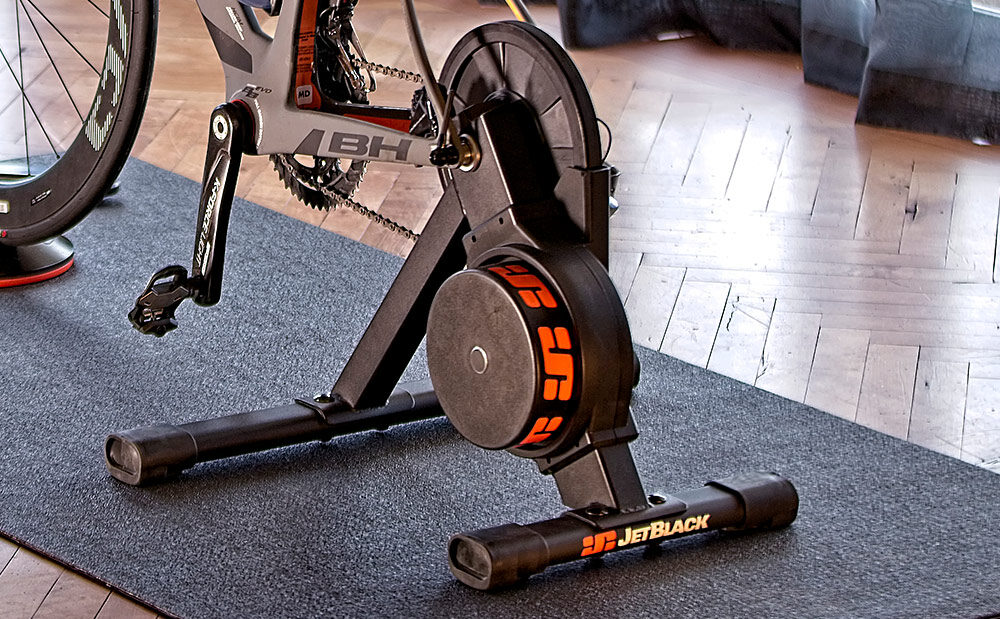 If you're searching for an efficient and reliable bike trainer to enhance your indoor cycling experience, then the JetBlack V2 Fluid Trainer might just be your perfect match. Here is my first-hand account of this alluring cycling device.
Let's begin with the positives:
Quiet and Smooth Operation: The Jetblack V2 operates so smoothly and silently that it's easy to get lost in your workout and forget you're even using it. It does so by utilizing its fluid resistance system, creating an immersive cycling experience.
Changeable Resistance: The resistance of this trainer can be adjusted manually. It means that you can customize your training programs according to your mood or fitness level.
Sturdy Construction: With its robust steel frame, the V2 feels incredibly secure and stable under the most strenuous exercise regimens.
Easy Setup: Installing the bike on the trainer is simple and straightforward. It also features a quick release skewer to make the mount and dismount of your bike a breeze.
Despite those glowing points, there are a few minor drawbacks that I've identified with the JetBlack V2 Fluid Trainer:
Noisy at Higher Speed:Although relatively silent during normal usage, the trainer can get a bit loud when used at extremely high speeds. However, the noise level stays within acceptable limits.
Lack of Connectivity:The one thing that this trainer lacks is built-in connectivity features. You will need an external device to measure and collect the workout data.
"The JetBlack V2 Fluid Trainer is a solid, reliable, and user-friendly indoor bicycle trainer. Its minor disadvantages don't detract significantly from its overall value."
| Specifications: | Details: |
| --- | --- |
| Resistance Type: | Fluid |
| Connectivity: | No |
| Weight: | 12kg |
| Dimensions: | 56 x 56 x 41cm |
So, if you're in the market for a low-key, high-effectiveness bike trainer, you should definitely give the JetBlack V2 Fluid Trainer some serious consideration. It may be a bit bare-bones in terms of bells and whistles, but it more than excels where it truly matters: enhancing your cycling performance.
How do bike trainers work?
Understanding how bike trainers work can help you make an informed decision and get the most out of your indoor cycling experience. Generally, bike trainers transform your outdoor bike into an indoor stationary bicycle. This is how it happens:
The rear wheel of your bicycle is attached to the trainer, which holds it off the ground. Once you start pedaling, the trainer provides resistance, simulating the experience of outdoor cycling. Depending on the type of bike trainer, this resistance can be generated in various ways. Let's delve into that:
Wind Trainers: They generate resistance using a fan. The faster you pedal, the more air the fan displaces and the greater the resistance you'll feel, mimicking the feeling of a headwind.
Magnetic Trainers: These use a magnetic flywheel to create resistance. Many of them allow you to adjust the resistance level manually. However, they tend to be noisier and provide a less realistic riding experience than other types.
Fluid Trainers: These are the embodiment of silent but deadly. They use silicone-based fluid in a flywheel to provide smooth, quiet resistance that increases as you pedal harder. This type offers the most road-like feel among bike trainers.
Roller Trainers: Here, you balance your bike on top of three rollers that offer resistance as you pedal. This type requires a bit of practice and finesse as you have to maintain balance, but it provides a quite natural ride feel.
Smart Trainers: These are the crème de la crème of bike trainers. Not only do they offer resistance but also can interact with apps to simulate real-world cycling conditions like uphill climbs. The resistance automatically adjusts based on virtual terrain, workouts, or other factors. They're the priciest, but the functionality is worth every cent.
To sum up, bike trainers work by providing resistance to your rear wheel, turning your conventional outdoor bicycle into an indoor training beast. The type of resistance varies depending on the type of trainer, but the end game is to give you a fantastic indoor riding experience irrespective of the weather outside.
What types of bike trainers are available in the market?
Looking for a bike trainer for your indoor cycling needs can seem like a daunting task with all the different options available on the market today. To make it easier for you, let's break down the various types of trainers that you may come across.
Fluid trainers: These have a resistance unit filled with viscous fluid. The more effort you put in, the hotter the fluid gets, hence the more resistance is created. You get a "road-like" feel with these trainers, but they can be a little noisy and may overheat with prolonged use.
Magnetic trainers: They use a magnetic flywheel to create resistance. The upside here is that many models allow you to adjust the resistance level. However, the ride may not feel as smooth compared to fluid trainers, and the noise level can be relatively high.
Wind trainers: These are some of the cheapest options available. However, their resistance level is often directly tied to your pedaling speed, limiting your workouts. Plus, they're often the loudest trainers available.
Direct drive trainers: You need to remove the back wheel and attach your bike directly to the trainer. It gives a highly realistic ride feel, usually includes power measurement, and is often very quiet. They tend to be the highest quality, but also the most expensive.
Smart trainers: They offer automatic resistance adjustment, can measure power, and are often the go-to option for virtual riding platforms such as Zwift or TrainerRoad. Smart trainers can either be a direct drive or wheel-on design.
Remember, choosing the right trainer depends on your specific needs such as your training goals, noise tolerance, budget, and the type of bike you own. It's always a good idea to weigh these factors and do some research before making a final decision.
What features should I look for when buying a bike trainer?
When you're ready to purchase a bike trainer, there are a few features that could make a significant difference in your indoor training experience. By knowing what to look for, you can ensure you buy a model that perfectly meets your needs. Let's delve into some of the factors to consider.
Type of Resistance
The type of resistance provided by the bike trainer significantly affects the quality of your workout. There are several types including air, magnetic, fluid, and smart trainers, each with their own pros and cons. For instance, fluid trainers offer progressive resistance, which can be great for hardcore workouts, whereas magnetic and air trainers might be better suited for beginners due to the consistent level of resistance they offer.
Stability
Stability is paramount in a bike trainer. The last thing you want is to be rocking and rolling during your training session. Look for a model with a wide base and strong construction for a stable ride. Some models also have adjustable feet for extra balance on uneven surfaces.
Noise Level
Train without disturbing your surroundings. Some trainers are super quiet, while others can be quite noisy, especially at high speeds. If noise is a concern for you, consider smart trainers or fluid trainers which tend to be much quieter than air or magnetic ones.
Smart Capacity
Smart trainers allow you to sync with a variety of fitness apps and software to track, analyze and add diversity to your workouts. This can significantly enhance your indoor training experience. However, if tech isn't your thing, a basic non-smart trainer may suffice.
Compatibility
Lastly, make sure the trainer is compatible with your bike. Most models work with a wide range of bicycles, but it's always advisable to check. Also, consider any additional mounts or adapters you might need for the best fit.
In summary, finding the right bike trainer comes down to your personal needs and preferences. Keep these features in mind, and you are bound to invest in a piece of equipment that will support your indoor training endeavors effectively.