As a veteran in the cycling world, I can attest to the unceasing innovation that emerges year after year in the industry. It's similar to a peloton, racing down the highway; as one brand gains momentum, others follow suit, maintaining a tight competitive edge, always on the lookout for the chance to break away. Design overhauls, material changes, and advanced tech are constantly in flux and reflect the rapid evolution in this ever-growing space. So, what's more exciting than Christmas for bike aficionados? The anticipation surrounding new bike launches!
However these aren't going to come cheap, after all, the average price of a road bike has risen by 15% in the last five years.
But now it's time to saddle up and journey into what 2024 has in store for the cycling world. Let's dive into the upcoming lineup of road bikes, set to turn heads, drop jaws, and climb their way to any cyclist's wish list. Get ready to say hello to updated designs, advanced tech, and more speed than you ever thought possible. You think your current bike is fast? Let's just say 2024 is not pulling any punches, so keep your helmets on tight!
Trek's 2024 Offerings
Madone SL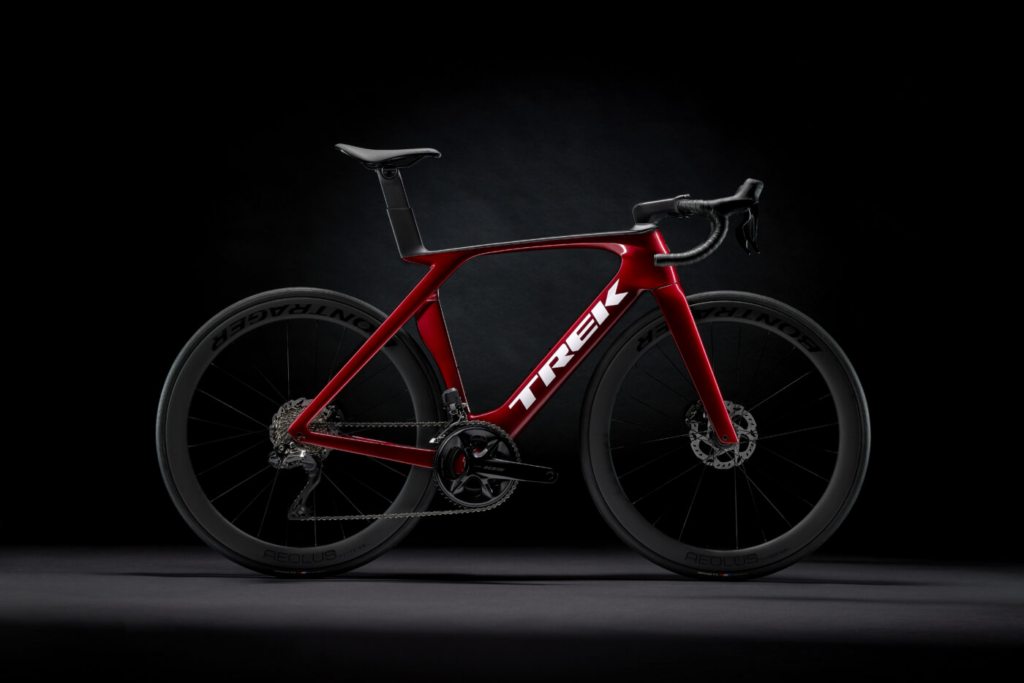 As a devoted cyclist and gear aficionado, I can tell you that the excitement about Trek's Madone SL 2024 is no mere hype. It's a revival, a reincarnation of a legend in the making. So, what makes this model especially noteworthy for a cycling enthusiast like you, dear reader?
When Trek set out to redesign the Madone, it's clear they heard the pleas. Lightweight, you asked? Faster, said another? More aerodynamic? Put simply, Trek's response appears to be, why not all of it? This superb version of the Madone manages to defy physics by being both lighter and more aerodynamic, a truly commendable engineering miracle.
The frame geometry has been reinvented with a slenderer, streamlined profile that cuts through the wind as deftly as a hot knife through butter. How did they achieve this? By integrating the cables and housing into the frame, yielding a neat, clean appearance that doesn't compromise on control or handling.
And let's talk about the IsoSpeed decoupler. It's an innovative design element that absorbs road shocks while maintaining efficiency. How you ask? It's a wonderfully smart hinge at the junction of the seat tube and top tube that enables vertical compliance, thereby smoothening your ride experience.
Fitted with the SRAM Force eTap AXS groupset, the Madone delivers a seamless gear-shifting experience that makes ascents feel like a downhill thrill. How could I not mention the frame material? It's Trek's proprietary 500-Series OCLV carbon, a material synonymous with strength, rigidity, and lightweightedness, ensuring your Madone can take a pounding while keeping you ahead of the pack.
So, whether you're tackling Tour De France style alpine ascents or simply cycling to the office, the Madone SL 2024 promises to take your ride to an unprecedented level. Sleek, fast, and innovative – it's not just a bike, it's a piece de resistance!
Domane AL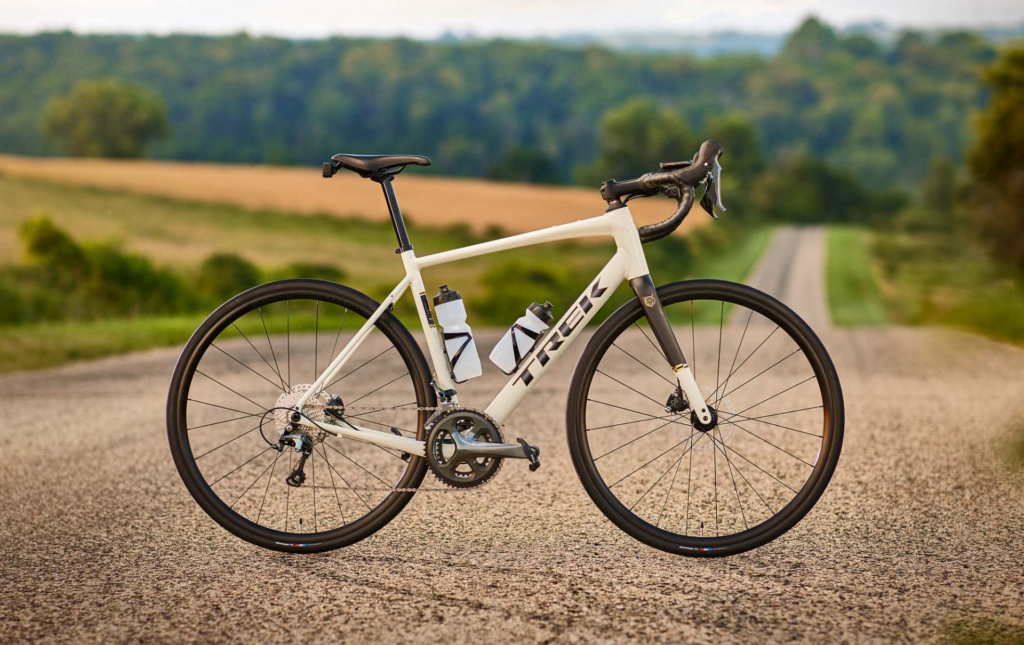 Ever wondered if it's possible to fall in love with a bicycle? Meet the sublime Domane AL, Trek's groundbreaker for 2024. I'd warn that you might just develop a lifelong obsession, but hey, aren't we all in too deep already?
On a serious note, the Domane AL's redesign is nothing short of revolutionary. Building upon its already superb design, the 2024 reworking manifests in a beautifully engineered aluminium frame that is both lighter and sturdier. Should we just start calling it 'Aluminium Extraordinaire'? I think we should.
"The all-new 2024 Domane AL brings together the best elements of speed, stability, and comfort in road biking. Simply put, it's the milestone for aluminium bikes."
Fancy taking on the rough terrain or planning for a long ride? No worries. The latest Domane AL houses the innovative IsoSpeed decoupler, visibly present on the front and hidden in the rear, delivering unmatched vertical compliance. To translate "technical bike jargon", this basically means the bike's got your back (and your front) on those bumpy rides, absorbing shock like a dream.
Throw in wider tyre clearance – we're talking up to 38mm, mind you – and your ride comfort just goes through the roof. Speaking of going through the roof, the slick new aesthetic of the Domane AL is bound to turn heads – after all, who said you can't be fast and fashionable at the same time?
Emonda ALR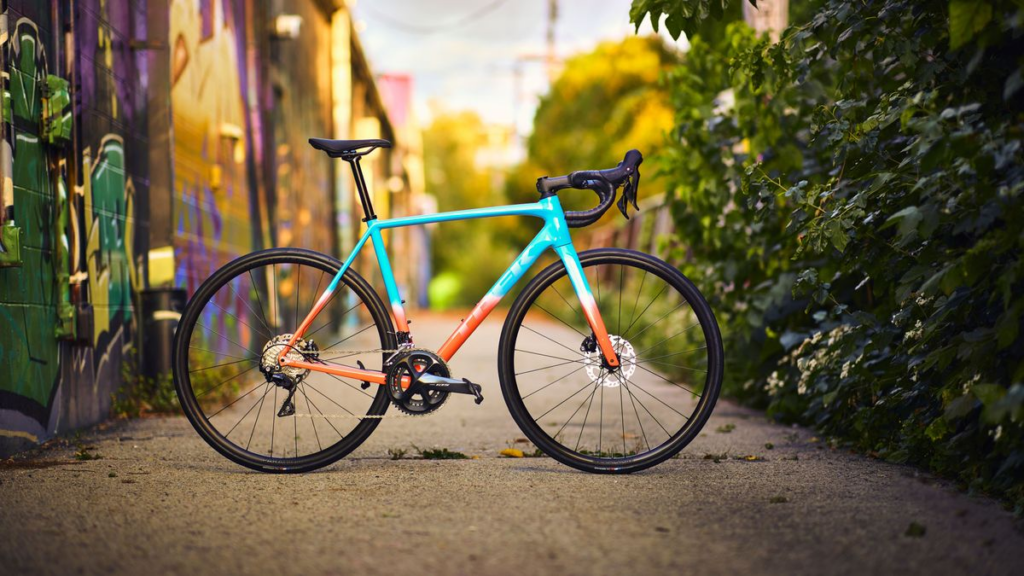 Now, let me slide you into the saddle of the Emonda ALR, the agile climber in Trek's 2024 line-up. Cheeky, isn't it? But this lightweight spoiler has a few tricks up its sleeve for the upcoming year.
Firstly, the masterminds at Trek have given it a complete makeover, nudging the materials game. The ALR now features an upgraded alloy frame with invisible weld technology. So, what does this mean? I hear you asking. It's simple my dear; it makes the bike stronger, more durable, and gives it a smooth carbon look. Clever lads, those Trek folks.
How about performance? Well, the Emonda ALR is famed for its hill climbing capability, making crests and gradients feel like a walk in the park (literally), thanks to its balanced weight distribution and geometry.
Imagine conquering the famous Tour de France climbs with much more ease! Now, wouldn't that be a sight?
A new addition is the aero-profiled tubes made to cut down on drag. This means, my fellow cyclists, a smoother, quicker ride, whether on flat tarmac or audacious ascents.
Finally, let me tip my helmet to Trek for bringing two sub-models this year: the rim-brake version and the disc-brake version. Now, the choice is yours, are you a traditional 'rimmer' or a modern 'discer'? I say, 'why not both?'
To conclude, the 2024 Emonda ALR sticks to its reputation as a game-changer in the world of aluminium road bikes. It comes packed with a punch, showing advancements in material and aerodynamic design that truly make it an upgrade to get your gloves on.
Other Trek Models
Let's not forget about the other all-stars in Trek's lineup set to experience some rather exciting redesigns this year. Buckle up and let me take you for a spin around the block with these highly-anticipated beauties!
Slash
Ah, the Slash. As rugged as it gets, and for 2024, Trek has upped the ante, making this beast even sassier. In this revamp, you'll find a sturdy construction featuring a fully redesigned frame – ideal for those tough trail rides or demanding downhill descents. Trust me, a day on the Slash promises thrills and spills in equal measure.
Fuel EXe Alloy
Next up is our trusty steed, the Fuel EXe Alloy. This year, Trek has really pulled out all the stops. Crafted with a high-quality alloy frame and featuring updated geometry, this model gets a dramatic redesign currently causing quite the buzz amongst the cycling community. This is one well-fuelled giant ready to make your high-altitude dreams a reality.
Supercaliber
Well, for those who value feather-weight agility, feast your eyes on the 2024 Supercaliber. This beaut has been revamped to take efficiency to new heights. Precision, speed, and agility have all been considered in this redesign. I can tell you, this is one model that's not just about looking good – it's all about taking you to the finish line first. No fluff here, just sterling podium-ready performance.
Fetch+ 2 and Fetch+ 4
Fetch+ simply screams versatility, doesn't it? In 2024, both the Fetch+ 2 and Fetch+ 4 models come equipped with impressive power assistance for those hard-to-reach nooks and crannies. Whether it's commuting or exploring, with their sleek frames and compact, clip-on accessories, these models demonstrate a keen attention to comfort and convenience. Trust me, once you're introduced to the Fetch, you'll never stray.
There you have it, folks! No matter your preferred terrain or two-wheeled escapade, the 2024 Trek range seems to be leaving no pedal unturned to offer you an upgraded experience on the road. And who knows, with these revamped beauties by your side, you might just be tempted to try out a new cycling challenge yourself.
Specialized Allez Sport 2024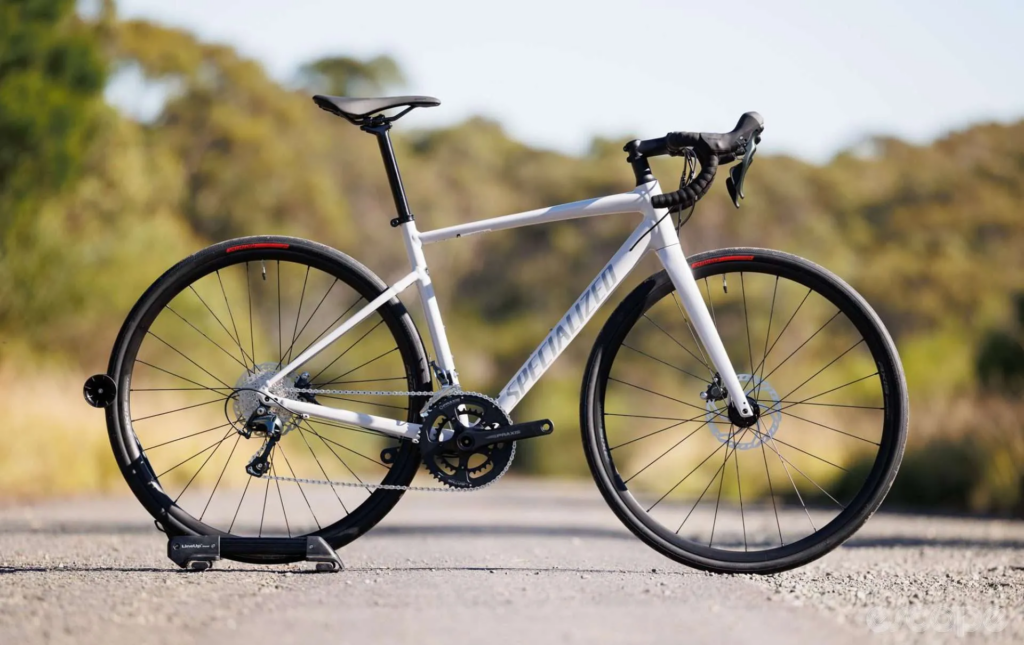 For those in the know, Specialized has been a hotbed of innovation, constantly improving the overall riding experience and design of its bikes. Just when you thought the Allez Sport couldn't get any better, Specialized pulls a rabbit out of the hat for the 2024 update.2​. Suddenly, the world of cycling feels new again, doesn't it?
Let's talk about what's new in the Specialized Allez Sport 2024 model. For starters, they've introduced a more relaxed geometry that is hugely appealing to contemporary riders. What does this mean for you? It's simple: a riding experience with less pressure on your arms and wrists, translating to increased comfort and longer rides.
Next up, the wheels. The Allez Sport now sports tubeless wheels, a modern marvel in the world of cycling. These bad boys offer fewer flat tyres and smoother rides, making your cycling journey as bump-free as possible. Ride over any terrain with ease – be it cobblestones or countryside trails – with these tubeless wonders.
But what about safety features? Fret not, dear reader! Specialized has introduced disc brakes into the design of the Allez Sport 2024. These offer significantly better stopping power than rim brakes, especially in wet weather conditions. So say goodbye to tense, slippery rides in the rain, and say hello to cycling with increased confidence!
In conclusion, Specialized's Allez Sport 2024 model has catapulted the brand to new heights when it comes to blending modern design with functionality. It's got it all: comfortable riding angles, cutting-edge wheel technology, and superior braking systems. So, ready for your upgrade?
Orro Gold STC Ultegra Di2 2024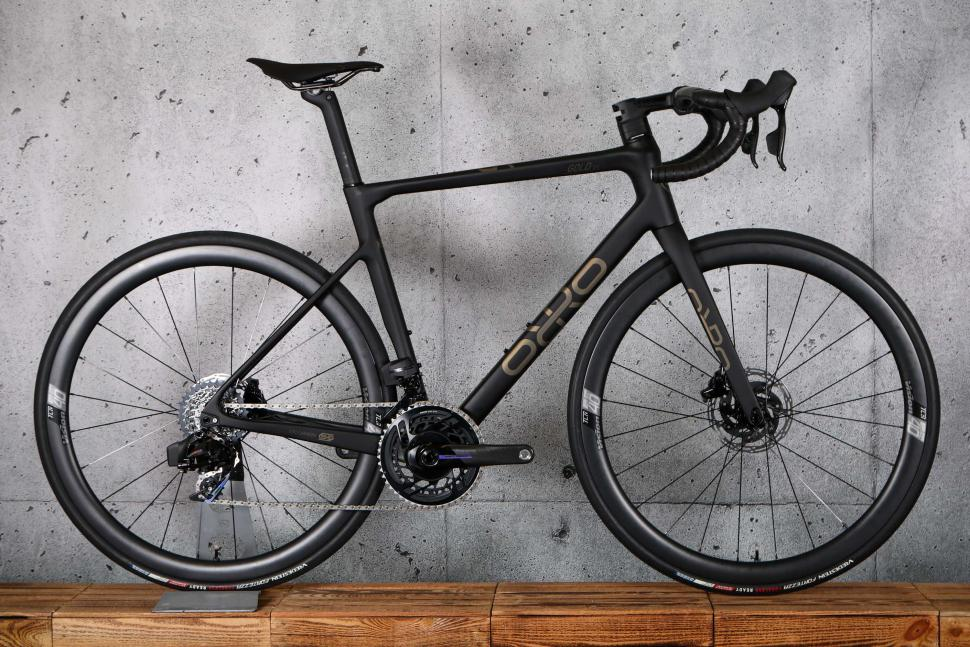 Ah, the Orro Gold STC Ultegra Di2. It's not just a mouthful to say, but a masterpiece to behold. This 2024 model is not your ordinary road bike—and that's quite an understatement. Let's delve into what makes this bike stand out.
Outstanding Performance: The Orro Gold STC Ultegra Di2 2024 deserves a gold medal—not just for its sleek golden paint job, but for an admirable performance on tarmac. When you're speeding down the road, you'll appreciate the bike's STC (Spread Tow Carbon) frame which confers both rigidity and lightness—an ideal partnership.
Rider-Friendly Design: How about the riding experience? I hear you ask. Well, let's put it this way: it's akin to cruising in a luxury sports car. It handles with precision and delivers utmost comfort, doing so with an aggressive yet manageable geometry. The Ultegra Di2 electronic shifting system makes gear changes smoother than a well-executed dad joke. I know you fellow cyclists know exactly what I mean.
Advanced Tech Bearing the Standard: The advanced technology is where the Orro Gold STC Ultegra Di2 2024 really earns its weight in… well, gold. The 2024 model offers factory-fitted Shimano Ultegra Di2 electronic shifters that function without a hitch—bye-bye, abrupt gearshifts.
Quality that's Worth its Weight in Gold: Here's a question—what's the sum of advanced technology, outstanding performance, and a rider-friendly design? The answer: Orro Gold STC Ultegra Di2 2024. A bike that's worth its weight in gold. Concrete proof that Orro didn't just slap on the 'gold' moniker for show.
Cannondale's SystemSix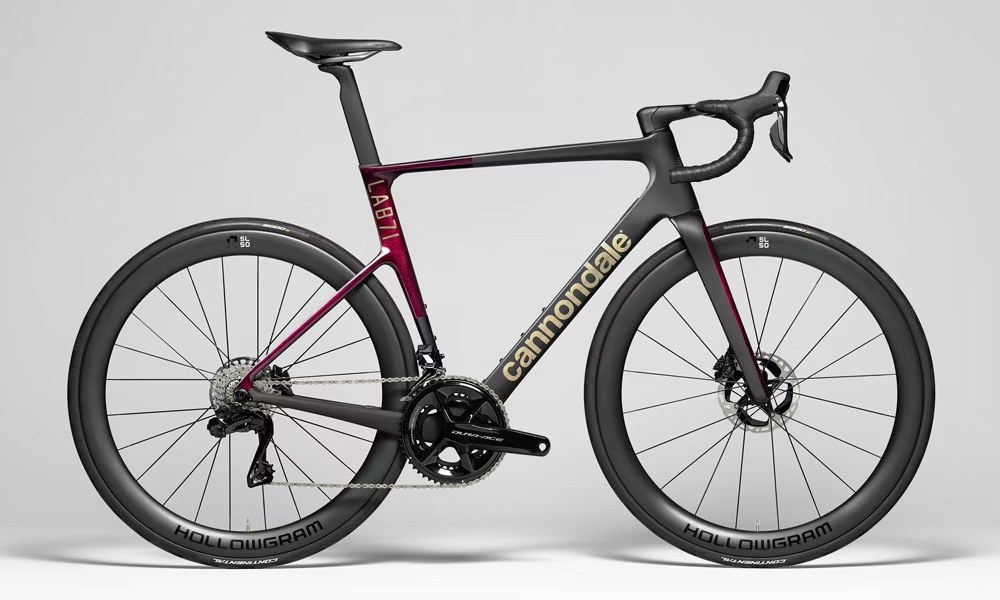 Now then, you're probably wondering, what's the buzz around Cannondale's SystemSix? Well, let's dive into the speculation and look at potential updates for the 2024 version relying on the bike's previous performance barometers.4 As a scholar in cycling performance and cyclist myself, I can reveal that the SystemSix has previously raised eyebrows in the circles I frequent due to its reputation as an 'Aero Beast'. Impressive speed, top-of-the-range specs, innovative engineering – it's the crème de la crème of Cannondale's road bike lineup. But with 2024 looming over the horizon, the rumours have left many of us intrigued. What can we expect?
Seeking Superior Speed: Hearkening back to its 2023 road-feasting avatar, SystemSix revolutionised speed like never before; lowering the sprinters' efforts yet amplifying the pace. Riders commonly report feeling an immediate power transfer from pedal to pavement. In 2024, in line with various whispers tracked down, the SystemSix may take this speedster role to a new level.
Advanced Aero Efficiency: The wind slicing shape alongside meticulously designed component integration of the older SystemSix was a hit among us speedheads. Can it get any better? The word on the circuit is that SystemSix's aero efficiency could see some significant improvement in the next iteration.
Superlative Handling: Sheer speed teamed up with responsive handling was always the SystemSix's winning ace. Imagine descending a tricky mountain route without any compromise on control. Too good to be true? Actually, no. Riders have previously attested to the bike's exceptional stability, control, and predictability. Here's hoping the 2024 upgrade carries on this legacy.
Mammoth Components Upgrade: With the previous model adorned with Shimano's flagship Di2 groupset, HollowGram wheels, and power meter specs, one can only wonder – what's next? The 2024 upgrade, as per industry gossip, may bring an even more mind-blowing assembly of components. We're talking about dynamite on wheels here!
In a nutshell, SystemSix for 2024 might very well be the dream update all us Molteni-retro-jersey-wearing cycling fanatics are waiting for. Stay tuned for more as we uncover the 2024 bike redesign mysteries!
Other Noteworthy Mentions
Canyon Aeroad
Let's kick off this section with a quick chat on the Canyon Aeroad. Known for its exceptional aerodynamics and favourable price-to-performance ratio, the 2024 Aeroad has been tipped to pack some new surprises. Yes, the whispers are all about a substantial design shift for better wind-cheating capabilities. Exciting, isn't it?.
Ridley Noah Fast
Next on our radar is the Ridley Noah Fast. We've heard murmurs about potentially comprehensive aerodynamics upgrades for the Noah Fast in the coming year. Want to slice through the wind even faster? Looks like Ridley has listened to your wish.
Colnago
How about we throw in a classic like Colnago? The's the talk of a lighter, stiffer frame optimised for power output. Fingers crossed, the 2024 line-up should give us a more responsive ride5.
BMC TimeMachine
Finally, let's dish some dirt on the BMC TimeMachine. Sources hint at a more integrated, streamlined design complete with a fit adjustment system for the 2024 model. That sure sounds like a time-travelling machine, doesn't it?.
Conclusion
Let's face it, fellow pedallers- there's nothing that gets our hearts pumping faster than the tantalising promise of a fresh fleet of road bikes! With the exciting prospect of the 2024 road bike lineup on the horizon, it's not just downhill momentum that's got us picking up speed. From rejuvenating redesigns to substantial spec upgrades, the whisperings from the world's best bike manufacturers promise much to savour. How thrilling is the anticipation?
But the question is: are you as revved up as we feel right now? We're chomping at the bit here, folks, on the edge of our well-worn saddles awaiting the official word from the who's who of the bike world. Whether you're a fan of Trek's reliability, captivated by Cannondale's innovation, or you swear by Specialized's smooth rides, there's plenty to look forward to!
Fret not if your favourite brand isn't on that list. The beauty of the cycling world is its thrilling diversity, and we're sure to see impressive upgrades from a host of other manufacturers too. So, keep those lycras pressed and your helmets at the ready. As they say in the cyclist's world – it's not a sprint (unless it is), it's a marathon.
So, dear reader, how about we all gear up and stay tuned for those official updates? The world of road biking doesn't stand still, and neither should you. Coming up, we're tackling the Trek's 2024 offerings in our sights. Ready for the ride of your life?