Hello, ladies! I'm here to talk about one of my passions: road biking. And if you are reading this, we probably share a love for this exhilarating sport. Whether you're a seasoned cyclist or just getting started, finding the right road bike can be quite a task. Trust me—I've been through this process several times, and I've learned a thing or two. So, today, we're going to take a look at the very best road bikes for women in 2023.
Choosing a road bike, especially as a woman, involves a bit more than just walking into a store and picking out the prettiest one. You've got to put a lot of thought into choosing the right road bike, especially as a lot of factors come into play.
"The perfect bike isn't just about the colour (although, let's be honest, a cool looking bike does make the ride more fun), it's about how it fits, feels, and performs on the road."
With so many options out there, it's easy to get overwhelmed. But fear not, ladies, because we're about to delve into everything you need to know. Stay tuned as we explore factors to consider when selecting a road bike, my top five picks for women's road bikes in 2023, as well as some handy maintenance tips.
Factors to Consider When Choosing a Road Bike for Women
After years of overlook.
1. Frame Size: Selecting the right frame size is essential. It largely influences your riding position and comfort during long journeys. The best way to find your optimal frame size is by measuring your inseam and comparing it to the bike's sizing guide. As a sidenote, remember that women's bikes typically have shorter top tubes, meeting the needs of the generally shorter torso length of women compared to men.
2. Handlebars and controls: Women tend to have narrower shoulders than men. Therefore, a bike with narrower handlebars will likely be more comfortable and easy to control. Also, control levers should be accessible and easy to use. Several bikes for women are now featuring brake and gear controls which can be adjusted to fit smaller hands.
3. Saddle: From my personal experience, a comfy saddle is a lifesaver on long rides. Women-specific saddles are designed with a wider base to accommodate a wider sit bone structure. It's worth trying a few before settling on the one that feels most comfortable.
4. Weight: The weight of the bike affects how easy it is to handle and ride. Lighter bikes will require less effort to pedal, especially uphill. When choosing, always consider the bike's weight relative to your own stamina and strength.
5. Quality of components: Key bike components such as derailleurs, brake calipers, and the cassette require close attention. Top quality components increase the bike's efficiency and lifespan, meaning less time in the workshop and more on the road enjoying the ride.
6. Budget: Finally, there's no getting around the question of budget. Quality road bikes can range considerably in price, so it's wise to define what you're willing to spend, and which features matter to you most. Remember, an expensive bike isn't always the right bike.
In conclusion, finding the right road bike is about understanding your physique, your needs, your riding style, and matching those to a bike's features. Always remember, the best bike for you is the one that feels the most comfortable and enjoyable to ride.
Top 5 Road Bikes for Women in 2023
Liv Enviliv Advanced Pro 2 Disc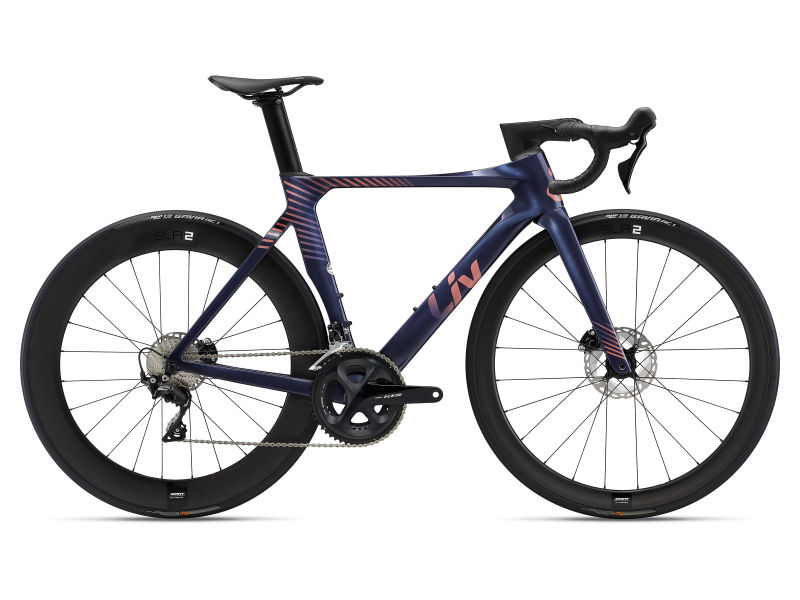 Let's move on to the first model on my list: The Liv Enviliv Advanced Pro 2 Disc. I've had first-hand experience with this bike and boy, let me tell you, it's a game-changer. Designed specifically for women, it's one impressive road bike that effortlessly combines aerodynamics, comfort, and speed.
One of the first things to draw my attention with the Liv Enviliv was the design. With its sleek, compact frame geometry sculpted for female riders, it's as much a treat to the eyes as it is to ride. I can vouch for the fact that you not only feel lighter on this bike, but also more in control.
Performance-wise, it dominates the road. The advanced-grade composite frame and OverDrive steerer means it's both exceptionally lightweight and stiff. I've found that this makes for faster accelerations, more direct power transfer, and precise handling, especially on downhills and tight turns.
The bike also features integrated disc brake technology, providing fantastic stopping power in diverse conditions. And trust me, when you are pushing the speed limit, that's a crucial factor to able to rely on.
Comfort is another key feature where the Liv Enviliv shines. The D-Fuse seatpost and Contact SLR D-Fuse handlebar work in harmony to minimize road vibrations, and ensure a smoother, less fatiguing ride. I've done some pretty long stints on this bike without discomfort – a true test of a bike's character, I'd claim.
Finally, let's talk about the overall value. It may not be the cheapest on the market, but for the level of specification, design, comfort and superb performance, I can assure you, this bike is worth every penny. It has truly enhanced my road biking experience.
Trek Domane SL 6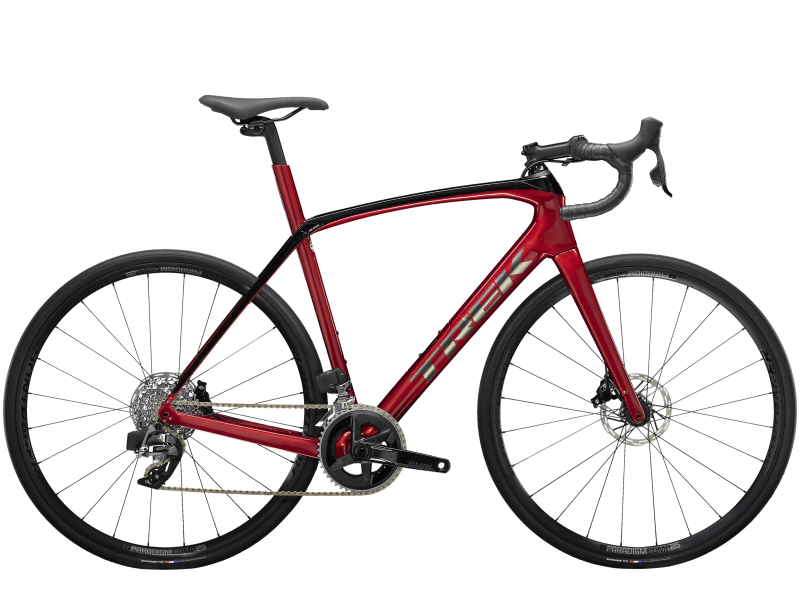 And then we have the incredibly smooth Trek Domane SL 6. As a long-time cyclist, I've been on many bikes, and this one certainly stands out. Let me just say, the comfort and speed this model provides are second to none.
The Domane SL 6 is ideal, particularly for women who value comfort over long distances. Its features are thoughtfully designed to cater to women's specific needs. Its IsoSpeed decoupler increases vertical compliance, making bumpy roads feel smoother, essential for those long, adventurous road trips.
An important factor I always consider when recommending bikes is its size range. With women in mind, Trek offers the Domane SL 6 in five different sizes, accommodating heights from 4'11" to 6'2″, which is a resounding plus.
The endurance geometry of the bike means that it's perfect for long rides. You will enjoy the relaxed position without compromising on speed. And don't get me started on the impeccable handling – it really does make those corners a breeze. Oh, and it's worth mentioning its sleek design with its attractive colourways, surely to appeal to a lot of us.
In terms of components, the bike comes equipped with a Shimano Ultegra groupset, renowned for its reliability, quality, and performance. The hydraulic disc brakes assure confident stops regardless of weather conditions, a feature that's boosted my trust in Domane SL 6 over the years.
The finer details have not missed either. It features internal cable routing for aesthetics and extra protection against the elements, plus an integrated mount for a Bontrager Flare RT tail light – safety first, right?
Owing to all these features, I must say, the Trek Domane SL 6 sits high on my list for best road bikes for women in 2023.
Cannondale Synapse Disc Women's Sora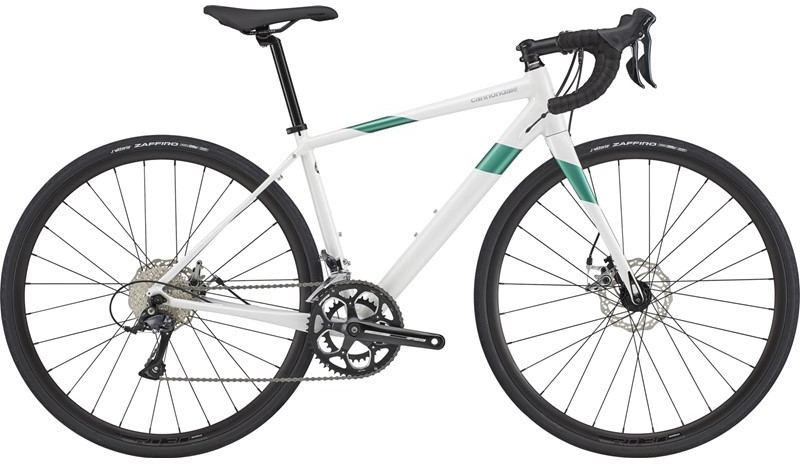 Absolute beauty blended with outstanding performance, the Cannondale Synapse Disc Women's Sora is a road bike you can't ignore. In my personal road biking ventures, I've come across several bikes, but this one caught my attention immediately. Its design is clean and simple, making it very appealing.
But it's not just about the looks. The bike features a SmartForm C2 Alloy frame with a carbon blade, a suspension that delivers smooth ride quality. With this bike, you can take on long distance rides with ease, thanks to its endurance geometry.
The Shimano Sora drivetrain is efficient and I can tell you from first hand experience – it works seamlessly, allowing for precise and quick gear changes. One thing that 'wowed' me was its powerful disc brakes. Regardless of the weather, these brakes ensure that you stop on time.
As a woman rider, I found the saddle quite comfortable. It's specially designed for women and offers a good blend of cushioning and firm support. My riding experiences with this bike have always been pleasant.
What about size ranges, I hear you ask? Well, Cannondale has different size options to accommodate a wide range of riders. As a result, you're likely to find a Synapse Disc Women's Sora bike that fits you perfectly.
In short, with Cannondale Synapse Disc Women's Sora, you're looking at reliable performance and unmatched comfort, not to mention a design that surely turns heads!
Liv Langma Advanced SL Disc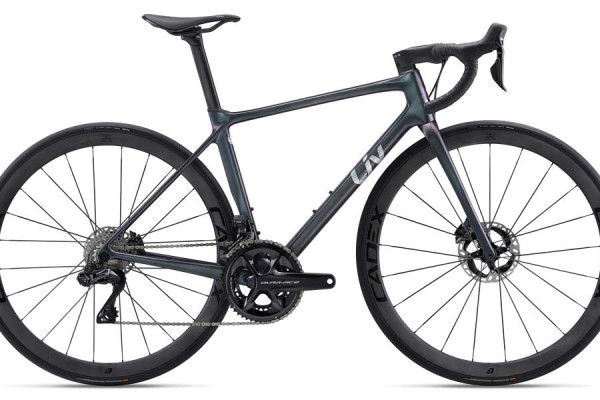 If you're looking for a mix of endurance and speed, the Liv Langma Advanced SL Disc might be your ideal pick. As an avid cyclist, I certainly love its lightweight frame, allowing me to ascend hills with less effort, not to mention the nimbleness when steering.
One thing that has always stood out is this bike's responsive disc braking system. It's incredibly reassuring to know that, no matter the weather conditions, I can always rely on the stopping power of these brakes. It's a feature that consistently adds a sense of security to my rides.
What's more, the Liv Langma Advanced SL Disc is designed with women in mind. The geometry of the frame fits the female body quite well, ensuring comfort on those longer rides. And even though it's featherlight, this bike is sturdy, too. Crafted with a carbon fibre frame, it not only ensures durability but also makes it aerodynamically efficient.
If you're a serious cyclist chasing PBs or just someone who enjoy weekend rides, this bike does incredibly well. The combination of its carbon fibre frame, efficient disc brakes and women-orientated design all contribute to making it one of my absolute favourites.
Canyon Grail 6 WMN
Switching gears—almost literally—to the Canyon Grail 6 WMN, I'm reminded why this bike has created quite the buzz in the cycling community. Built with a focus on comfort and endurance, the Grail 6 WMN is perfect for both new riders and women who love those extra-long rides.
Riding this beauty is truly a dream. Thanks to its well-thought-out geometry, stable handling, and drop-bar cockpit, the bike ensures a comfortable ride even after hours on the road. Trust me, we've all had those punishing long rides, and the Grail 6 WMN noticeably smooths things out.
Equipped with Shimano's reliable GRX600 groupset, this road bike guarantees smooth shifting and solid braking, providing that extra assurance when you're pushing your speed. Notably, Canyon offers this model in sizes 2XS through M, accommodating a broad swath of rider heights, which is a win for us ladies of various statures.
Ladies, the Canyon Grail 6 WMN undeniably delivers in terms of performance, comfort, and value for money. So, whether you plan to use it for recreational riding or to challenge your fitness limits, it's sure to impress. It certainly impressed me!
Maintenance Tips for Women's Road Bikes
Maintaining your road bike in tip-top condition is crucial, not only for its longevity but for your comfort and safety as well. Here are some crucial maintenance tips specific to women's road bikes that have helped me and, I'm sure, will help you too:
Regular Cleaning: Cleaning your bike after every ride may seem like a tedious chore, but it's a great way to ensure the components don't gather dust or grime. It also gives you a chance to spot any potential issues early. I usually wipe down the frame with a soft cloth and mild soap and brush off any dirt from the tyres and gears.
Checking tyre pressure: Under or over-inflated tyres can impact your ride and safety. Personally, I make it a practice to check this before each ride. The correct pressure depends on your weight and the type of terrain, but for road bikes, it usually ranges from 80 to 130 psi.
Brakes and Lights Inspection: Brakes and lights are non-negotiables when it comes to safety. Always ensure they are working properly and the brake pads are not worn out. Trust me, you don't want to discover a brake failure while descending a steep hill!
Keep the Chain Lubricated: The chain is one of the most important components on your bike. So keep it well lubricated to ensure smooth gear shifts and prevent wear and tear. I generally do this once a month or more, depending on the conditions I ride in.
Bike Fit: Last but definitely not least is ensuring your bike fit. A bike that fits you well will not only improve your performance but will also make your ride more comfortable and reduce the chance of injury. If you're unsure about this, I would recommend getting professionally fitted at a bike shop.
I hope these tips will help keep your ride smooth and safe. Remember, a well-maintained bike is a happy bike!
Conclusion
As we draw to a close, keep in mind that choosing the right road bike can significantly enhance your cycling experience. We've taken a comprehensive look at five amazing models for 2023, all tailored for women. From the AeroSwift Femme 2023's superior aerodynamics to the EcoRide Women's Eco Series' commitment to sustainability, there's something for everyone.
While I'm particularly drawn to the AeroSwift Femme 2023 for its sleek design and advanced features, remember that the best road bike for you will depend on your needs and cycling goals. Whether you crave speed, comfort, endurance, or eco-friendly operation, always ensure your bike aligns with too if you want your road bike to last. By following the basic maintenance tips, you can those objectives.