If you're anything like me, the prospect of outdoor adventures, the enrichment of racing adrenaline, and the caress of the wind against your face pulls you towards cycling. Remarkably, the cornerstone of this exhilarating journey is one crucial decision—the selection of your road bike. When I embarked on my cycling journey, I quickly learnt that the right road bike was as significant as the passion within me.
The correct road bike can transform an arduous uphill climb into a thrilling rollercoaster ride; a long uninterrupted stretch into a gratifying speed test. Contrastingly, sprinting full force down a winding road on a poorly-chosen bike could culminate in a less than pleasant experience (trust me on this one). Therefore, it's critical, imperative even, that you choose the right road bike.
But it's not just about the fun (although, that's a hefty part of it); with the right road bike, you'll see a surge in your performance, improvements in your stamina, and enhanced training results. The correct bike can turn a daunting slope into a training opportunity and, in turn, help you maximise your cycling potential.
Moreover, a well-chosen bike is an investment, ensuring you spend less on future repairs due to wear and tear. After all, there's no fun in constantly returning to the bike shop for fixes when you could be out embracing the open road.
It's a complex union, the relationship between a cyclist and their bike. That's why the importance of choosing the right road bike fresh out of the gate cannot be understated. As a beginner, this first
Understanding the Needs of Beginner Cyclists
Being a beginner cyclist is akin to navigating an entirely new world. As an enthusiast myself, I empathise with the trials and discoveries that come with entering this fast-paced, invigorating sport. There's a lot to absorb, from mastering hand signals to understanding the difference between a cassette and a crankset. But of all these, finding the perfect beginner road bike can be one of the most daunting tasks. I remember my first time, it was like a rollercoaster of excitement and trepidation.
So, what exactly do beginner cyclists need? For starters, we need a bike that will forgive our initial clumsiness, and be patient as we learn the ropes. A bike that will support us in those first shaky miles and grow in tandem with our burgeoning abilities.
Comfort: Cycling can be physically demanding, especially for beginners. A road bike with a comfortable design is vital. Prioritise a bike with a more relaxed, upright geometry than the intense forward-leaning positions of racing bikes.
Price: It's understandable not to want to invest an arm and a leg into something you're just trying out. A beginner-friendly bike should be affordable, yet not compromise on quality and durability.
Durability: Your first road bike will be seeing a lot of action as it accompanies you through your learning stages. It should be sturdy and resilient, able to withstand a little rough handling and the inevitable tumble or two.
Versatility: As you are just starting out, you'll likely be riding on a mix of terrain (smooth pavements, gravel paths, hilly inclines). Your bike should be capable of handling these with aplomb.
Taking these criteria into consideration can simplify the decision-making process and guide you towards a bike that'll let you hit the road running (or cycling!). Remember, the right bike is a crucial component to ensuring your bicycle journey is enjoyable and rewarding, instead of a demanding and frustrating chore.
Expert Recommendations: The Top 3 Road Bikes for Beginners in 2023
Giant Contend 1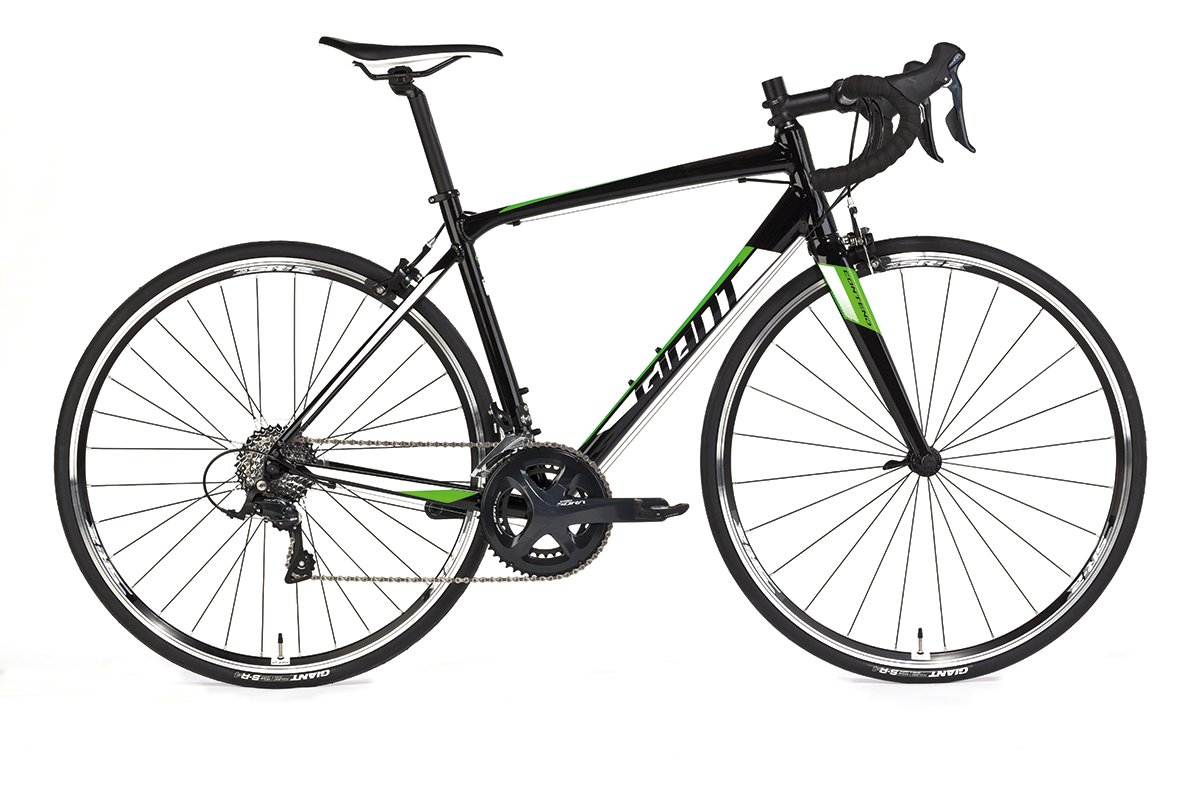 The first on our list of top beginner road bikes for 2023 is undoubtedly the Giant Contend 1. Manufactured by the reputable Giant Bicycles, the Contend 1 comes with a promise of quality, reliability, and exceptional performance on the tarmac, even for the most amateur rider.
This bike stands out from the crowd for its excellent balance between comfort and performance. Equipped with an innovative D-Fuse technology, the Contend 1 is designed to absorb road bumps; thus, providing a smoother ride and reducing fatigue. Trust me, your back and bum will quickly become a fan of this!
Wielding a sturdy but light ALUXX-grade aluminium frame, the Contend 1 doesn't compromise on speed. Its design leans closer to the endurance end of the spectrum, enabling new road cyclists to keep pace on longer stretches without feeling completely knackered. The bike's compact frame geometry, featuring a taller headtube and shorter toptube, also promotes a safe, relaxed riding position; perfect for novices still wrestling with balance and stability.
Another magnitude of this bike's appeal lies in its components. The Contend 1 comes with a 2×8 speed Shimano Claris groupset, known for its smooth and reliable shifting. The 50/34T chainrings coupled with an 11-34T cassette provide a wide range of gears, allowing beginners to tackle various terrains without breaking a sweat (Ok, slight exaggeration, you will still sweat!).
Note that while the Giant Contend 1 isn't the cheapest bike on the market, it offers remarkable value for money. Quality isn't sacrificed for affordability here. With this bike, you're making a long-term investment, not just in a durable machine, but in your cycling journey.
In summary, the Giant Contend 1 is a sublime choice for newbies. Its clever synthesis of comfort, performance, and value earns it the pole position on our list. An investment in this ride is an investment in a joy-filled and rewarding cycling adventure, and let's face it – we could all do with a bit of that!
Specialized Allez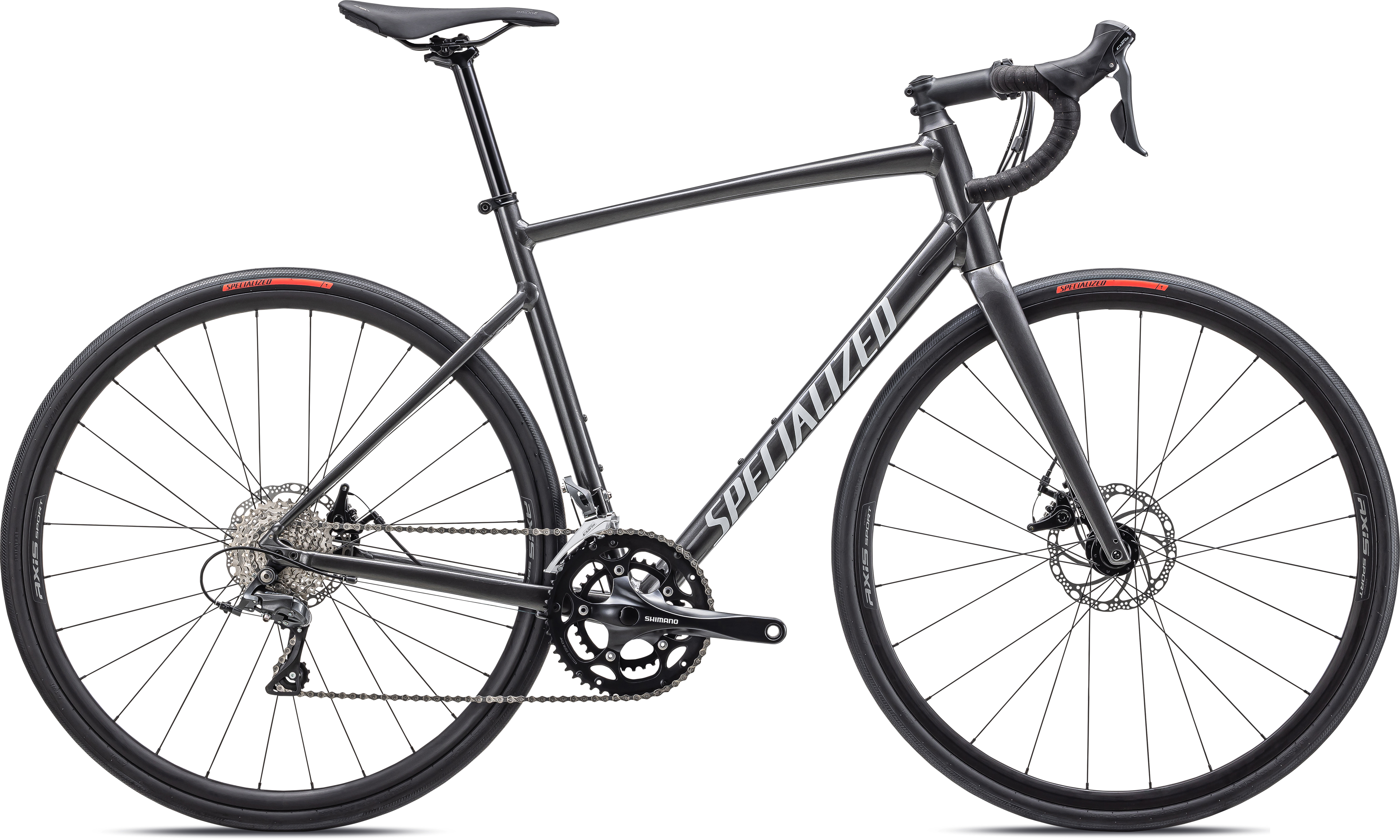 The second road bike on our list is the phenomenal Specialized Allez. This model has often been heralded as the go-to option for beginners, and I can personally attest to that. Unforgettable was the day I first took a ride on the Allez, immediately realising the comfort and control that it offers, especially to greenhorn road cyclists like myself at the time. It's a bike that begs to be ridden, and its touch on the road is one that offers an abundance of confidence.
The Allez isn't just about feeling good, though; it's about looking good too. With a sleek design that easily catches the eye, it's just the kind of bike that makes you feel the part even when you're only just starting out. Over the years, I have recommended the Allez to many newbie cyclists, and the reviews have been nothing but ecstatic.
A point to note is the Allez's affordability. Armed with an aluminium frame, carbon fork and FACT technology for reduced road chatter, it delivers a lot of value at a price that won't burn a hole in your wallet, a critical consideration for many starting out in this sport.
But what truly sets the Allez apart is its performance. This steed boasts Shimano Claris 16-speed gearing, which provides a versatility that can make your bike perform well in a wide variety of terrains. Moreover, the Allez is built to last, with durability that means you'll be able to hit the roads for years to come without fearing major breakdowns or problems.
In my humble opinion, the Specialized Allez is an excellent stepping stone into the world of road cycling. It has the features and the performance to make you fall in love with the sport while giving you the confidence to keep pushing your boundaries. If you're just setting out, I can't recommend this model enough.
Trek Domane AL 2
The last recommendation in our top 3 selection is the Trek Domane AL 2. It's a daredevil of a bicycle that has nested itself comfortably in my favourable regards because of its versatility, comfort, and brilliant performance on tarmac surfaces.
A prominent feature of this bike is its reliable Shimano Claris groupset, which, as you may know, is one of Shimano's entry-level road bike sets. However, don't be fooled – the performance of it is anything but basic. Shifting gears is as smooth as spreading butter on hot toast and as precise as Oxford punctuation.
What sets the Trek Domane AL 2 apart is its 'Endurance Geometry', which essentially means increased comfort over long distances. This bike's design is a saviour for your joints, relieving them of any unnecessary strain.
An often-overlooked feature of road bikes is their weight, but Trek did not forget. The Domane AL 2 is a feather-light build that still offers strength and durability. It's rare to find such a fantastic balance that doesn't cut corners on quality.
When it comes to beginner-level road bikes, the Domane AL 2 is the embodiment of value for money. Starting with a beginner cyclist, this bike can accommodate progression seamlessly, effectively saving you the cost and hassle of upgrading to an intermediate-level bike in a hurry.
In short, the Trek Domane AL 2 gives the reassurance of a reputable brand, the comfort of endurance geometry, and unrivalled value for your hard-earned pounds. It's easy to see why this bike has secured its spot in my personal top three list for beginner road bikes in 2023.
The above superbikes have made my top three list for multiple reasons: comfort, performance, quality of components, and last but not least, user-friendly features for beginners. This, along with the voices of countless cycling experts and enthusiasts, should help to reassure you that these are bikes worth considering. Regardless of which path you choose, just remember to enjoy your ride and savour the journey. After all, we all start somewhere. Perhaps, today is your day to start cycling!
Factors to Consider When Choosing a Road Bike
As a cycling enthusiast who fell in love with the sport a few years ago, I learned the hard way that choosing the right road bike isn't just about picking the shiniest one on the rack. There are several key factors you need to consider to ensure the best cycling experience for you as a beginner. Trust me when I say that the following tips can save you from a fair share of rookie pitfalls.
Frame Material
Your bike's frame is its backbone, dictating both ride quality and weight. The three most common materials are steel, aluminium, and carbon fibre. Steel offers comfort due to its natural flexibility but is heavier. Aluminium is light and affordable but lacks the comfort of steel. Carbon fibre, the crème de la crème, combines lightness and comfort but comes with a hefty price tag. As a beginner, an aluminium frame may be the most practical choice until you want to invest more heavily in your passion.
Size and Fit
One size does not fit all when it comes to road bikes. Getting the right size for your body dimensions not only ensures comfort but, more importantly, prevents injuries. Most manufacturers offer size charts, but I highly recommend a professional bike fit, if possible. They tailor every aspect, from handlebar width to saddle height, to your specific measurements, making for a ride as smooth as a duck on water.
Groupset
You're scratching your head, wondering, "What's a groupset?" well, let me clear this up. It's the bike's mechanical bits, including the brakes, gears, and drivetrain. The quality of your groupset will affect your bike's performance, so don't skimp on this. As a beginner, Shimano's Claris or Sora groupsets are good starting points, offering reliable performance at a reasonable price.
Braking System
While I don't intend to be all doom and gloom, braking is something we need to talk about. After all, those hills can be deceptively steep! You'll need to choose between 'rim brakes' or 'disc brakes'. Rim brakes are lighter and easier to maintain but don't perform so well in wet conditions. Disc brakes, on the other hand, provide better stopping power, particularly in the rain, but can be difficult for a novice to maintain. So, weigh up your needs and pick wisely.
Remember, choosing a road bike isn't about succumbing to peer pressure or getting lost in tech jargon. It's about understanding your needs as a beginner cyclist and finding the right balance between comfort, performance, and budget. I wish you good luck and happy pedalling!
My Journey as a Beginner Cyclist
Starting out as a beginner cyclist was both exciting and, let's be honest, a tad terrifying. You try to gain your balance, adjust to the new speed sensation, and understand how the heck to change those gears seamlessly. So, let me share with you a bit of my love, trials, and blissful road biking moments.
Every enthusiastic sprout starts somewhere; mine started with a notably outdated bike borrowed from a neighbour. It was heavy as bricks and squeaked like an aging door, but it was my start line to a beautiful journey.
Weeks turned into months, and I found myself itching for a ride every dawn and dusk. It was then I realised, to take my newfound passion forward, I needed my slice of road cycling royalty. So, I embarked on a mission, much like you are doing now, to find my first 'proper' road bike.
The common assumption was the more expensive the bike, the better the performance. But that wasn't entirely accurate. With a little research, I found it was more about the compatibility between rider and bike. I trialled several options, and finally settled on a bike that was not 'high-end', but the right fit for my skillset and comfort – the bike that became my partner on many sunrise rides.
Finding the perfect bike is crucial for any beginner. It's a journey of trials, errors, countless queries, and uncertainties. But if there's something I learned from my journey, it's that it's all worth it. Having the right bike not only improved my performance but also gave me the confidence to explore, to challenge myself, and to enjoy every ride.
"Every mile together is a milestone,' a fellow cycling enthusiast used to tell me. So, it doesn't really matter where you're starting from. Equip yourself with the right gear, seek expert advice, and embrace the ride. Because, as a beginner cyclist, the journey is truly where the fun is. You'll emerge stronger, more skilled, with love and utterly in the world on two wheels.
Now, get started on your cycling journey, and remember, the wind on your face and the road beneath your wheels are feelings that no money can buy. I hope you enjoy every uphill struggle and the exhilarating descents just like I did and continue to do. Happy riding!