Offering the opportunity to connect with other like-minded riders, as well as providing a visual stimulus to focus on whilst working out, software like Zwift and the Bkool Simulator are great for alleviating some of the boredom often associated with indoor riding.
Bkool have recently launched an much improved Simulator, whilst Zwift remains a firm favourite amongst many indoor cyclists. We therefore thought it would be a good idea to look at these two platforms in more detail.
What do Zwift and the Bkool Simulator do?
Zwift markets itself as a multiplayer video game, enabling you to link your turbo trainer to your PC, MAC or mobile device and ride alongside others in a virtual environment. With a heavy focus on social, Zwift is perfect for those wanting to connect with new people who have a common interest (i.e. cycling).
On the flipside, the Bkool Simulator prides itself on a more realistic riding experience, with its large variety of route options and changing weather feature. Still offering many of the social features of Zwift, Bkool focus on their designed-by-experts training structures.
How many routes do Zwift and Bkool offer?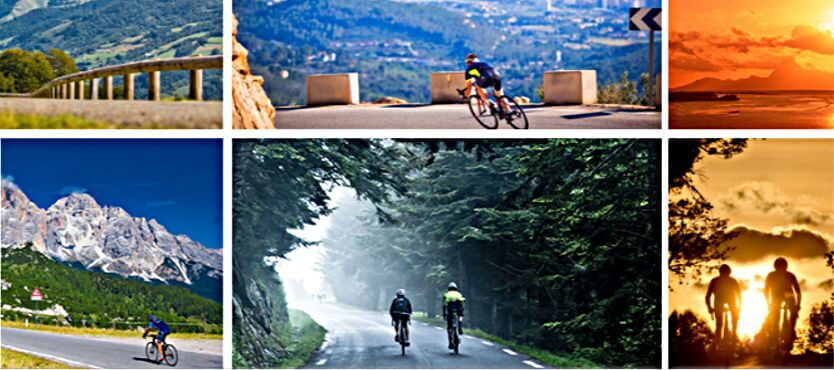 The Bkool Simulator is certainly the better turbo trainer companion app when it comes to the choice of routes. Not only are there already 500,000 routes available to choose from, including Central Park in New York City, Bangkok and Copenhagen, but the Simulator also allows you to upload and create your own routes. You can literally ride anywhere in the world and even convert your rides into fully immersive 3D virtual environments. That is pretty cool.
The Bkool Simulator also has other advanced features, such as changing weather conditions, headwinds and even a night mode. Although none of these are a necessity for a good work out, there???s no denying that they add even more dimension to your online cycling experience.
Zwift has less choice when it comes to their virtual environments. They have chosen to focus on 3 worlds: Richmond, London and Watopia, all with an average of around 5 unique routes for users to pick from. However, these routes are very well done.
What are the fitness benefits?
Both of these PC and mobile applications feature structured training and workouts. With the Bkool Simulator, coaches will help you to achieve your goals with a system of streets and watches, meaning that you can follow your progress in real time.
Zwift encourages you to push yourself with visual cues, along with general community support.
What are the social benefits?

Zwift was created for indoor riders to be social. And there are riders from over 150 countries currently signed up. One fun feature allows you send a fellow rider a thumbs up by clicking the ???Ride on??? button. Meanwhile, if you receive a ???Ride on??? from another cyclist, you???re jersey pockets will grow and your total can be counted after completing the route. This ???gamification??? helps keep you engaged in your ride and thus workout more.
Zwift also allows you to chat to the community with the Voice-to-Text messaging feature, making the group rides and community races even more enjoyable.
The Bkool Simulator also provides the opportunity for you to ride alongside other cyclists. You can even create your own cycling team! There is also a Velodrome Games arena to allow you to stay social and train at the same time.
Bkool has a similar points system to Zwift, but these are earnt based on the difficulty of the workouts you take on. These points can then be used to pick and customise your cycling outfit. With Voice Chat, Bkool users can instantly chat to fellow riders and you can also write supportive messages on the roads themselves. This is pretty cool!
Learn more about Zwift on their website here

Learn more about Bkool on their website here


Can I upload my Zwift and Bkool data to Strava?
Many cyclists will be very familiar with Strava and it???s good to know that data from your rides on both Zwift and the Bkool Simulator can be synced to Strava. This is important because people like to record all workouts to get a better picture of the rides they???ve done and the data they???ve accumulated.
How much personalisation is there?
Zwift allows you to change how your avatar looks. Change up your jersey or bicycle with various items that unlock each time you level up. Meanwhile, edit skin tone, hair colour and add even add some glasses.
Bkool allows you to configure your avatar too, and the more Bkool points you earn the more like you your character can become. These points to customisation features only add to the addictiveness of these platforms, which translates to more workouts. It???s a good addiction ????
What extra equipment do you need to use Zwift and the Bkool Simulator?

The Bkool Simulator works with all sorts of trainers and meters. You can use it in conjunction with a power meter, a smart trainer and even a heart rate monitor. The advanced app uses your pulse to calculate your power output. Bkool have their own great trainers (we cover them in detail here), so if you have a Bkool turbo trainer in makes sense to use the Bkool Simulator.
Zwift have a comprehensive list of supported trainers over on their website, but they say that most turbo trainers and power meters work as long as you have an ANT+ power meter.
What device does Zwift and the Bkool Simulator run on?
Zwift Mobile Link app is currently available on the Google Play Store (Android 4.2 and up), the iOS App Store (iOS 8.0 or later). It can also be downloaded on to PC and MACs (Windows 7 and OSX 10.8 and above).
Similarly, Bkool is compatible with MAC (OSX 10.8) and PC (Windows 7 or later), iOS (7 or later) and Android (4.2 or later).
Do you need an internet connection for Zwift and Bkool?
Both of these applications require a high speed internet connection and neither offer an offline mode.
How much does Zwift and the Bkool Simulator software cost?
Bkool and Zwift work on a subscription basis. Zwift currently charge $10 per month (which roughly works out at about ??8.20) and Bkool charges ??8 a month, so the cost roughly the same.
Bkool offers customers 20% off if they sign up for a full year, costing ??78 instead of the ??96. Bkool also do hardware (and very well ??? read out Bkool turbo trainer guide here), and if you buy a Bkool trainer you get 3 month free Premium Simulator subscription.
Not sure if you???ll like them? Bkool offers 5 sessions for 30 days completely free and you can join for 14 days for free with Zwift!
Learn more about Zwift on their website here