Elite are an established cycling giant, and have top engineers who continuously develop new and innovative ways to enhance the cycling world. This is no more evident than in their indoor turbo trainers, where they do not just follow the herd, but instead push for new innovations and ways of doing things. This has resulted in two unique turbo trainer products, one being a fluid resistance direct drive trainer, and the other being a combined fluid and magnetic trainer. These two trainer plus all the other current trainers in the 2014 Elite range will be discussed here.
If you want to see a list of all Elite trainers and links to specifications and best prices click here.
Elite have two main groups of cycle trainers, namely their standard indoor trainers and their Real range of trainers. The defining difference between these two groups is their compatibility with Elite???s Real software, which allows riders to race and compete on RealVideo courses and terrains. The Real trainers are controlled via software on a PC or laptop, which automatically varies the trainer resistance in sync with the terrain and slopes on the course the rider is cycling on. However, the non-Real trainers (i.e. standard indoor trainers) in Elite???s range are high quality products, and are compatible with Elite???s app that allows the rider to monitor their vital performance outputs, such as cadence and power.
Elite???s Standard Indoor Turbo Trainers
There are 7 indoor trainers in the range, with varying resistance types and control technologies. The defining trainers within this group are the Qubo trainers that utilise the Elite Qubo frame. This frame is special in that it allows the riders weight to push the bikes rear wheel down onto the resistance unit, and thus alters the resistance power curve slightly as it would on the open road depending on the weight of the rider or how hard the rider is pushing down onto their bike.
Elite Volare Mag Speed Turbo Trainer
The Volare Mag Speed trainer uses a magnetic braking system with 5 available pre-set resistance levels. The resistance is controlled via a handlebar mounted resistance dial. This is Elites most budget trainer with an RRP of ??149.99, but you can pick it up for as little as ??119.99. This is a solid entry-level trainer for those wanting a way to get on their bike indoors for regular exercise, but perhaps the more serious cyclist may consider one of the higher end trainers in Elite???s range.
Elite Novo Force Turbo Trainer
With an RRP of ??179.99 the Elite Novo Force is a step up from the Volare and features Elite???s special Elastogel resistance roller. This roller uses a cast polyurethane elastomer and offers considerably less noise, tyre wear, and more grip compared to conventional resistance rollers. The Novo Force is again a magnetic resistance trainer with 5 levels of resistance controlled via a handlebar mounted dial. Using the Novo Force trainer positions your back wheel close to the ground, and therefore reduces the need for a front wheel riser block that is normally recommended for turbo trainers. The Elite Novo Force trainer can be found for around ??160 and is compatible with Elite???s ???My Training??? app.
Elite Qubo Power Pack Turbo Trainer
The Qubo Power Pack is Elites lowest cost trainer that uses the Qubo frame. This frame uses a Crono System that allows the supporting frame arms to move with the riders weight, pushing the back tyre harder onto the resistance roller just like it would in real life on the road. This results in a more road-realistic workout. The Power Pack trainer uses a power magnetic in its resistance unit, and offers 8 levels of progressive resistance and comes with a large 1.7kg flywheel. This flywheel provides a smooth pedalling action. This trainer comes with the Elastogel resistance roller like the Novo Force, and again is compatible with Elite???s ???My Training??? app for extra performance analysis. The Power Pack trainer also comes with a special training DVD to help you get the most out of your workouts. This trainer has an RRP of ??229.99, but can be picked up for around ??206.
Elite Qubo Power Fluid Turbo Trainer
The Elite Qubo Power Fluid trainer is Elite???s most powerful fluid trainer, and they state that it is 100% more powerful than other fluid trainers. Like all standard fluid trainers it offers a progressive resistance that increases along a pre-defined power curve the faster you pedal. The flywheel of the Qubo Power Fluid trainer is immersed in oil which provides the extra resistance, resulting in high resistance even at low speeds. This is a powerful but very quiet trainer that again takes advantage of Elite???s Elastogel technology and the Crono system, meaning it is quieter and less detrimental on your tyres, and pushes the tyre against the resistance unit to offer a more realistic workout. The RRP of the Elite Qubo Power Fluid trainer is ??249.99, but it can be found for just ??221.
Elite Qubo Hydromag Turbo Trainer
This really is a revolutionary turbo trainer, combining two technologies in one braking unit. The Elite Qubo Hydromag turbo trainer uses both fluid and magnetic resistance to provide a smooth, but controllably powerful ride. There are 4 progressive resistance power curves to choose from, meaning the Hydromag trainer is very versatile. Use for easy warm-ups or warm-downs, or crank up the resistance and put yourself through a high powered workout. As with all trainers in the Qubo range, the Hydromag has an Elastogel resistance roller for less tyre wear and a quieter ride, and a Crono System support frame for a more pressure sensitive and road-realistic ride. The RRP of the Elite Hydromag turbo trainer is ??334.99, but it is available for as little as ??251.
Elite Qubo Digital Turbo Trainer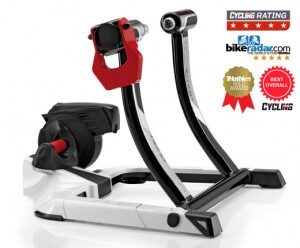 The Qubo Digital is Elite???s flagship trainer, and is recognised by the major cycling experts as one of the best trainers out there in its class. This is an electro-magnetic trainer that is completely wireless and is controlled via a handlebar mounted computer console. The computer console not only controls your resistance, but also displays an array of important performance metrics, such as power output, cadence, speed, workout time, heart rate, and even training heart rate zones. There are an impressive 16 levels of resistance, and again it utilises the Qubo frame with Elastogel and Crono System technologies. For this popular trainer you will be looking to spend around ??360 (RRP ??399.99).
Elite Turbo Muin Turbo Trainer
The Elite Turbo Muin is something a bit different in Elite???s range. It is Elites only direct drive turbo trainer, and the world???s only fluid direct drive trainer. You remove your back tyre completely with this trainer and fix your bike directly to the main frame. This has some distinct advantages over traditional turbo trainers, namely it eliminates any back tyre wear, it reduces noise significantly, and it more efficiently transfers your pedalling power to the resistance unit of the trainer. The noise is reduced even more by the use of a fluid resistance unit, with Elite even stating that the only noise you will hear from this machine is that of your bike and nothing else. The Muin direct drive trainer is compatible with Shimano 9/10/11 speed cassettes, and can be used with Elite???s ???My Training??? app. The Elite Turbo Muin trainer has an RRP of ??499.99, and can be found for around ??50 less than this at ??449.99.
Elite???s Real Turbo Trainers
The Real range consists of Elite???s top-end trainers. There are 3 in the range, namely the RealTour, RealAxiom, and RealPower. The main difference between these 3 trainers is their maximum simulated incline and their maximum power output. All Real trainers are controlled via software that runs off a PC or laptop, and allows the rider to compete on videos of famous terrains, such as the Tour de France, as well analyse many performance outputs (power, cadence, speed etc.), and opens up different training programs and online web races against other Real trainer owners.
Elite RealTour Turbo Trainer
The RealTour is the cheapest by far of Elite???s Real range, with an RRP of ??549.99. Using an electro-magnetic resistance brake the RealTour offers a modest 500 Watts of power at speeds of 30km/h, and simulated slopes of 6%. The trainer operates completely wirelessly, and is synced with the Real software that allows you to ride RealVideos, which are terrains and courses that include famous stages of the Tour de Frane and Giro d???Italia. The videos you ride through are speed and incline sensitive, meaning the faster you cycle the faster you will progress through the videos, and when you hit an uphill stretch the trainer will automatically become stiffer. The Real software also brings added analysis and training programs, and even allows for web races against other Real trainer users. All Real trainers come with special support feet that allow the trainer to tilt and roll, as well as coming with Elastogel resistance rollers. The RealTour also comes with a front wheel travel riser block. You can find the Elite RealTour trainer for around ??400, which is a great price for what this trainer/software package offers.
Elite RealAxiom Turbo Trainer
With an RRP of ??999.99, this is an expensive trainer, but it provides increased power outputs when compared to the RealTour, and its maximum simulated incline is 10%. The RealAxiom also comes with a handlebar mounted computer control unit that allows you to control the software on your PC or laptop without getting off your bike. You get all the same benefits of the Real software as with the RealTour, which includes 2 RealVideo terrains and GPS import support. While having an RRP of ??999.99, the Elite RealAxiom can be picked up for ??749.99.
Elite RealPower Turbo Trainer
The RealPower is Elite???s very top-end turbo trainer, and provides the best indoor cycling experience Elite can offer. Power outputs are high even at low speeds (500 Watts at 15km/h), and the maximum incline simulated is a huge 20%. The Real software comes with 5 RealVideos, compared to the 2 the RealTour and RealAxiom come with. You also get the same tilting and rolling frame for added realism, and additionally you get a Gel Block front wheel riser. This riser has an Elastogel insert for added stability and reduced vibrations. This top-end trainer comes with a top end RRP of ??1499.99, and can be found for ??1339.99. This top price brings you one of the very best trainers out there from a brand that is steeped in cycling history. You will get the most realistic rides with the RealVideos, with the hard uphill mountain stages really feeling like hard uphill mountain stages when you max out the 20% incline with the RealPower trainer.
Summary
Elite know how to engineer cycling equipment, and they are constantly innovating when it comes to their indoor trainers. They have 10 trainers in their 2014 range, which can be split into two main groups, the Standard indoor trainers and the Real trainers. The Standard trainers cover all the bases in terms of resistance types and user capabilities. Their entry-level trainer is the Volare Mag Speed, which is a solid performer, but Elites Qubo range are a step up with a more advanced, rider influenced, adapting frame and tyre wear and noise reducing Elastogel rollers. From the Qubo trainer range the Elite Qubo Digital turbo trainer is their top offering with an electro-magnetic brake and a computer controlled resistance and display console. Elite also provide and direct drive fluid brake model, which offers high but extremely quiet and efficient resistance. All of these trainers are compatible with Elite???s ???My Training??? app.
The next level up are Elite???s Real trainer range. There are 3 trainer in this range, from the moderately priced RealTour that is compatible with the Real software, to the high-end RealPower. The RealPower is Elite???s best trainer, providing extremely powerful resistance, even at low speeds, and a computer controlled resistance that simulates inclines of up to 20%. The trainer is synced perfectly to video courses of world famous stages of major cycling races, meaning the harder you push the faster you will complete the courses. See how you compare to Wiggins, Cavendish, and Froome, or compete against other Real trainer riders on web races.
Elite has a comprehensive range of trainers that will certainly meet every level of rider experience and budget. So whether you are looking for an indoor turbo trainer for occasional exercise, or a top-end trainer with interactive web races and stages of the Tour de France to ride on, Elite will surely have a trainer for you.
Need more help? Visit the homepage and browse/filter all turbo trainers, or check out our popular Best Turbo Trainer 2013 Guide or our new Best Turbo Trainer 2014 Guide.